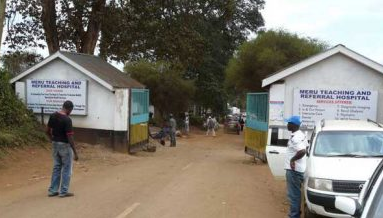 Services at the Meru Teaching and Referral Hospital have been hampered by under-staffing and lack of equipment, MCAs have said.
In a report to the county assembly after their inspection of the main public health facility in the region, the ward representatives said the hospital lacked the necessary personnel to man various facilities.
The hospital does not have a proper cancer screening centre.
Contributing in a session chaired by Municipality MCA Elias Murega, Budget and Appropriation Committee Chairman Julius Mbijjiwe said the hospital should be stripped of its 'teaching and referral' tag.
In the report read by Health Committee Chairman Martin Mworia, the MCAs said the members found the hospital to be in a deplorable condition.
The MCAs noted that the hospital did not have a health management system and its computers were inadequate and not networked.
Despite it being a referral facility, the MCAs found that most departments did not offer 24-hour service due to lack of both medical and non-medical staff.
Mr Mbijjiwe asked how almost Sh500 million allocated to the hospital in the last financial year and charges collected from patients were used. This year, the hospital has been allocated Sh453 million but Mbijjiwe said the officials must account for the funds allocated so far.
He said patients had complained that the hospital laboratory was congested, lacked most reagents and modern equipment and that they were being over-charged for tests.
Few beds
The report showed most medical personnel in the laboratory department were casuals while the maternity ward did not have enough beds.
Some of the key equipment at the facility, including dialysis machines, were not in good working order.
Mbijjiwe said it was regrettable that the hospital lacked medical facilities yet the health department was allocated Sh3.1 billion in the 2017-2018 financial year and Sh3.6 billion this year.
He said the health and budget committee would summon the department executive and other top officials to explain how they planned to improve services.
Related Topics