Home
/
Health & Science
Cubans at home in area regarded a security risk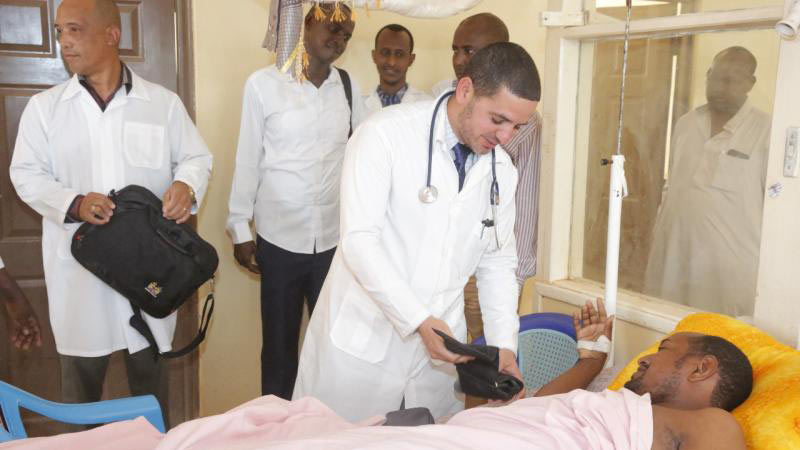 A quick google search about their new work station revealed doom and gloom. Top results touched on insecurity - abduction, bomb blasts and the dreaded Al Shabaab.
But two weeks into the job, two Cuban doctors posted to Mandera County Refferal Hospital have adopted to their new surroundings.
Dressed in white dust coats, Dr Assel Herera Correa (general physician) and Dr Landy Rodriguez (surgeon) stroll into the the referral hospital as they greet locals "Jambo", smiling at calls of "amigo".
"The first thing I did was to check the internet and the security situation shocked me. It was all about bombs! I did not know what to do and my colleagues felt sorry for me. Cuban doctors work in all sorts of conditions within 75 countries," says Dr Correa, who has worked in Botswana and Venezuela.
The doctor says Mandera town is a peaceful place, adding that he now wants to learn Kiswahili and Somali.
"Unlike what I saw on the net before coming here, this place is secure and I would not mind my wife and daughter joining me," he says.
Dr Correa, who attends to about two dozen patients in a day at the facility says the locals are friendly and he is adapting to the culture.
Just like Dr Correa, Dr Rodriguez calls his family back in Cuba daily to share his experiences in Mandera town. "The food is good and I am planning to taste camel and goat meat soon. I love tea with milk though I do not know how to differentiate camel milk from cow milk," says Rodriguez. The surgeon, who has been at the hospital for close to two weeks says he is on 24-hour call and handles 10 surgical cases a day.
However, language has been a challenge for the two doctors, and their local colleagues have had to download the Google application that translates English to Spanish for ease of communication.
"I need a translator most of the time but I am trying my best to learn Kiswahili. Kenyan doctors should come here if they want to get more experience," he says.
The doctors were helped to settle down in Mandera by Dr Ali Osman, who studied in Cuba and returned home.
"They communicate easily in theatre using medical language and since they came, major operations have been very successful," says hospital's Medical Superintendent Dr Mohamed Adan.
Ms Dekha Tawane had a hernia foetus growing inside her uterus and went into labour for four days in the bush.
"With the help of the team in the theatre, I managed to extract the baby in a bid to remove pressure from the mother's belly. Both the mother and baby are in good condition," says Dr Rodriguez, who performed the operation for two hours.
Mandera County Health Executive Ahmed Sheikh Mohamed says the Cuban doctors are a blessing because getting personnel in specialised cadres has been a huge challenge.
Related Topics