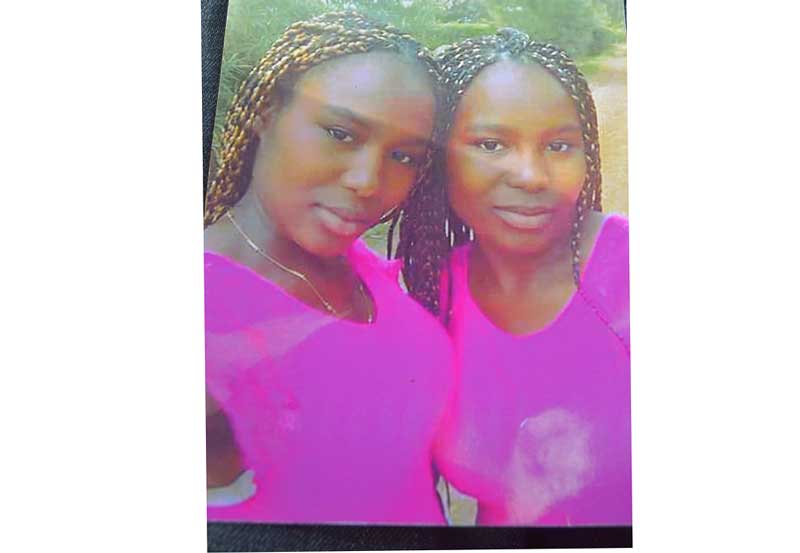 By a twist of fate, identical twins Carol Gakii and Christine Gatwiri never left each other's side. Even when the cruel hand of death struck a fortnight ago, the two inseparable sisters were together.
The twins, born on October 10, 1996, were killed on June 4 on Thika Road.
They were buried yesterday in an emotional send-off at their home in Mpukoni village in Chuka/Igambangombe, Tharaka Nithi County.
At the home near the Kangoro-Ikuu-Rubate dirt road, some eight kilometres off the main Nairobi-Meru highway, neighbours and relatives confessed they had difficulties distinguishing between the two.
Casty Karimi, 51, the coordinator of the Catholic Charismatic Movement at Our Lady of Consolation, Mpukoni Catholic Church, had a special bond with the young girls, but even though a neighbour, she used to call them either of the two names.
"They would greet me back with a chuckle and then I would know I had gotten it wrong," Ms Karimi said at the girls' home, where a condolence vigil has been taking place since their death early this month.
Only their mother Josphine Karimi, and very close relatives such as 70-year-old grandmother Charity Kaguri, and uncle Arnord Mugambi, 42, could clearly distinguish the two.
When The Standard visited the home yesterday, Ms Karimi was too traumatised to talk about her departed children, instead referring us to her mother and brother, who have been on her side since she was left alone with the children when she bore them.
Wrinkled with age and traumatised by the deaths of the jolly girls she had shared a house with since their birth, Kaguri narrated her agonising wait before the news of the death was broken to her.
But Kaguri, a widow, has fond memories of the departed twins, including their laughter and lively demeanor, which, she says, kept her entertained whenever they were home. "Of course after bringing them up all those years I developed an instinct of distinguishing them by their voices, smiles and laughter, and I didn't need to look for any scars on their bodies," Kaguri said with a chuckle dignified by her age and grieving.
Underlining the level of loss that the family has suffered, the grandmother said Christine was to clear her three-year course at the Thika School of Medical and Health Sciences in September, having joined the college months before her sister was enrolled at the nearby Gretsa University.
Caroline was taking a Diploma in Hotel and Restaurant Management, while Christine was taking a Diploma course in Nutrition and Dietetics.
"The twins had been abandoned by their father at birth, and my mother and I took up the parental role from their first day on earth at the then Embu Provincial General Hospital," said Mr Mugambi, who has always been close to the twins and their mother, a salonist.
At the time of their death, Mugambi owed a local Sacco Sh60,000 he had been advanced to finance their college education, while their mother owed Sh100,000.
"They were every inch my children and on the day they died I was even to send them money for their June accommodation," said Mugambi before grief cut short our interview.
According to the grandmother, the twins were always together and insisted on staying in the same school and class in their primary school at Kathiguni and later the nearby Ikuu Girls High School. They sat the Kenya Certificate of Secondary Education at the school in 2014.
After one year at home, the family decided to firs enroll Christine for her course because of inadequate finances, but months later, her sister was enrolled at the nearby Gretsa University. The twins had insisted on schooling in one town.
They commuted
They had rented a room at Witeithie, outside Thika town, from where they commuted to college.
It was on the nearby desolate Thika Road stretch between Witeithie and Njomoko (Mangu Road junction) near the Vincentian Retreat Centre that the twins would die together on the night of June 4 in unclear circumstances.
Mercy Karegi, a relative, said police had told the family the girls were knocked down by a Thika-Witeithie town service matatu, which is currently held at the Thika Police Station. "What is intriguing is that the girls' bodies were found on the Nairobi outbound side of the highway, which is inexplicable because they had parted with a friend in Thika town at 7pm and the accident happened at 8pm," said Ms Karegi.
The family claimed police told them the girls were hit as they walked on the roadside, but family suspects they may have reached their destination but were forced back towards Thika.
Related Topics