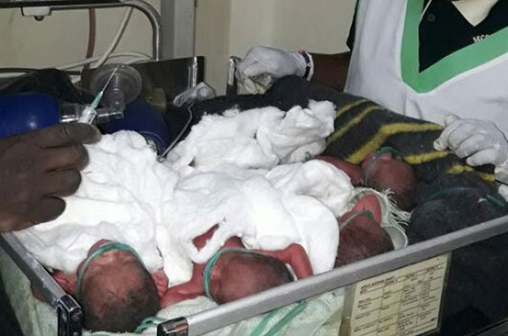 30-year-old Jacinta Akinyi was going on with her normal duties at a farm where she was working as a casual labourer on Saturday evening not knowing that on Sunday morning she would deliver quintuplets.
Akinyi who hails from Katula Kachiel area in Homa Bay County told The Standard that she felt some labour pains on Sunday morning after which she informed her mother-in-law and was rushed to Matata Hospital in Oyugis Town at 5AM where she delivered the five babies.
She was seven months pregnant at the time of the delivery with two of the children passing away due to some complications during child birth. Medical staff at the hospital worked hard to resuscitate them before they were referred to the Kisii Referral Hospital.
"I was only expecting to deliver one baby when the right time come since I was only seven months pregnant, I have been visiting a local clinic at home where they recommended me to go for scanning to establish the status of my pregnancy but we did not have any money since my husband and I are casual labourers who survive on menial jobs to sustain our family," said Akinyi.
Akinyi and her husband Zephaniah Ongonyo are parents of four other children aged 12, 11, 10 and 8 years old respectively that she had delivered at home previously without complications and that she never expected to have five more children but God had decided to bless her.
She is now appealing for assistance from the government or well-wishers to assist her take care of her babies.
Her Mother-in-law Pamela Ongonyo told The Standard that she had cautioned her daughter-in-law on several occasions to slow down on the activities she was engaged in, to ensure that she had a safe delivery but she always defended herself that she was comfortable doing her job.
Ongonyo said that the family was very grateful to the Director of Matata Hospital Dr John Malaga for allowing the mother and three babies who survived to be rushed to Kisii Teaching and Referral Hospital in an ambulance for specialized care without charging them since they did not have money.
"We thank God for blessing my son and daughter-in-law with three more children, we are requesting the National Government and Homa Bay County Government to assist them to take care of their now expanded family since they cannot do it on their own," said Ongonyo.
Christine Ondere who is a midwife at the Matata Hospital said this was a unique case since they have never delivered quintuplets at the facility and that when Akinyi arrived at 5AM experiencing labour pains they expected her to undergo a normal delivery process.
Perpetua Borura, a Nurse at the Kisii Referral Hospital who received Akinyi and the babies said they were in a stable condition with the kids weighing 1.5, 1.3 and 1.1 Kilogrammes respectively and they had been put in a nursery at the facility.
Related Topics