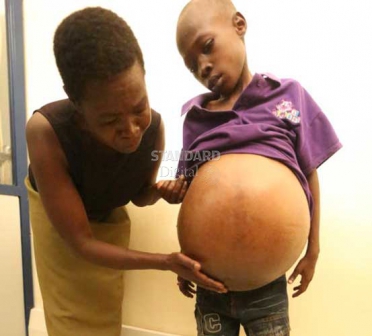 A 12-year old boy is living in agony after conflicting diagnoses left his family confused on the next course of action to save his life.
Alphy Ouma whose normal childhood is threatened by accumulation of fluids (medically referred to as ascitic fluid) in his abdomen, has been living a difficult life after leaving Kenyatta National Hospital where two doctors were divided on what needed be done to help him.
His grandmother Millicent Achieng' said that when the boy was referred to the referral facility last year, one doctor told them he needed a surgery to contain the ascites before another one who discharged the boy ruled that he only needed to have the fluid drained and be put on certain drugs.
"He drained some of the fluid and prescribed some drugs which were to be bought every two weeks at the cost of Sh2300. But over time I have been unable to buy some of them and the swelling persists," she narrated.
The Class Five pupil at Migosi Primary School, she said, has since been unable to attend school since last year and has difficulties eating, walking and breathing.
"He gets tired after walking a few steps and is uncomfortable sitting upright. So he dropped out after the first term in Class Five ad has not been able to go back since," she said.
She said after several trips in and out of hospitals and specialists, a retired doctor at JOOTRH told them he can help the boy at the cost of Sh80, 000.
"He said the solution lies in draining the fluid, some injections and drugs to keep further ascites at bay," she explained, adding that she was unable to raise that money.
"His mother is my daughter and she too is unable to raise any money. We appeal to any well wisher who can help us foot that bill now that hope for restoration of his health is at a grasp."
The life transforming condition, she said, started as gradual swelling of his parotid glands before he started complaining of unending stomach aches, and later swelling of his abdominal cavity.
"I gave him some flagyll but when the pain persisted, I took him to Jaramogi Oginga Odinga Teaching and Referral Hospital where he was admitted for two weeks," she recounted.
At the facility, several tests, including x-rays, chest radiograph and an ultrasound, as well as examination of blood samples were conducted.
Differential diagnoses indicated ascites and nephrotic syndrome – conditions associated with malfunctions of the liver or diseases of the heart and kidney.
When the problem persisted, Godfrey Otieno, a pediatric consultant conducted several tests, examined Master Ouma and reviewed his medical records before making a diagnosis of ascites due to chronic liver disease.
He then referred him to KNH for review by a gastroenterologist for further management. He recommended relieving of the ascitic fluid using porto-venous shunting, a complex method which was not available in Kisumu at the time.
But even after the trip to Nairobi the boy was not relieved after doctors disagreed, leaving the family confused on whether the condition was managed or not.
Related Topics