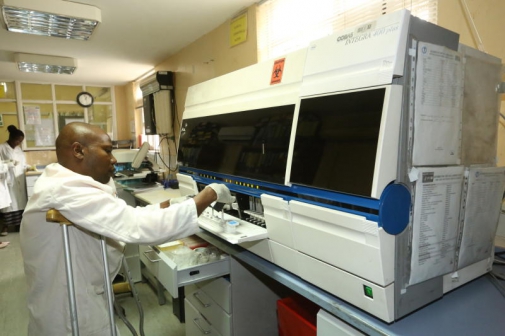 The Kenya Medical Research Institute (Kemri) has embarked on a new Sh5.2 million study on HIV and Aids.
The study aims to help women increase their chances of protecting themselves against the virus that causes Aids. The study targets 72 volunteers.
Kemri is collaborating with the US Centers for Disease Control and Prevention (CDC), the HIV Vaccine Trials Network (HVTN) and the HIV Prevention Trials Network (HPTN).
The study, being funded by the US National Institutes of Health (NIH), has kicked off at Kemri's Kisumu-based clinical research centre.
It targets 72 women aged between 18 and 40 who are HIV-negative and have had vaginal intercourse in the last six months but are using effective methods of contraception.
The research involves the use of antibodies made in laboratories and injected through intravenous infusion.
Laboratory tests, tests in animals and early clinical trials in humans have shown that the antibody is safe and can prevent many different strains of HIV from infecting cells.
In lab tests, the neutralising antibody, VRCO1, was able to block 90 per cent of different samples of HIV it was tested against, according to Kemri's Investigator of Record David Schnabel.
"Earlier studies have shown that it is safe and doesn't cause many side effects. The study is being conducted to find out if it can prevent HIV in people," he said.
Women not on contraception will not be recruited in the study. This also applies to those with medical conditions. The study involves the participant receiving an injection over a 30-60 minute period every eight weeks (10 times total).
They will also undergo a blood draw at the clinic every four weeks, including HIV tests and sexually transmitted infection testing every six months.
They will also complete questionnaires about sexual behaviour and general health every four to eight weeks.
"The antibodies do not have any actual HIV. The study is meant to find out if indeed it will increase, decrease or have no effect on one becoming infected with HIV," Mr Schnabel said. Two of the participants were enrolled this month.
Related Topics