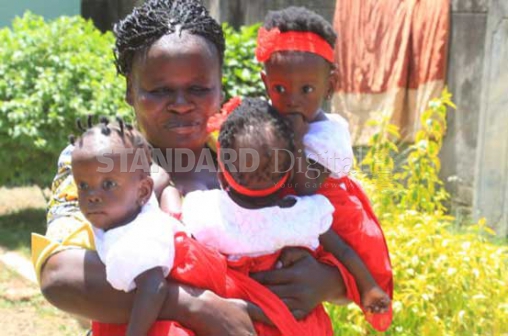 January 24, 2015 was an extraordinary day for Judy Onyonge.
The mother of two was looking forward to welcoming three new members to her family—she was expecting triplets.
Even as labour pains wracked her entire body, a weak smile danced across her face, a manifestation of the immense joy that she felt, joy that was hard to express in words.
But her joy was short-lived. After she gave birth and looked at the three bundles of joy, sadness washed away her smile. The triplets were tinier than she expected, and she knew immediately that something was amiss.
She gave birth by Caesarean section but was traumatised when she saw her tiny babies.
"I refused to touch the children because they were too tiny, each weighing less than one kilo. They were all in the nursery. I had to go through counseling to even start expressing milk for them. I stayed in the hospital for about three months," she says.
Today, the three little girls are one-year-old but they have not grown much. One would easily think that they are half that age due to their petite physique, arising from a medical condition. The little angels have holes in their hearts.
The identical triplets - Thelma Robina, Jynen Juliana and Amanda Akula - were born prematurely at 27 weeks.
Their young lives have been tough. Life has not been easy either for their mother, a petty trader.
Consultant pediatrician Ambrose Misore says the children are suffering from a congenital heart condition known as patent ductus arteriosus (PDA).
Dr Misore, who has been attending to them every two weeks, says every foetus has a hole in its heart, which acts like a short cut that allows blood to skip the circulation to the lungs.
"Before a baby is born, the foetus's blood does not need to go to the lungs to get oxygenated. When the baby is born, the blood must receive oxygen from the lungs and this hole closes. But when born prematurely, like these triplets, who are less than one kilogramme each, closure becomes a problem," he explains.
The doctor says in such situations, the children have to be given drugs at birth. But if the condition doesn't heal, Misore says, it has to be corrected through surgery.
In October last year, the doctor advised her to take the children for a test at Kenyatta Hospital. The results indicated that Robina has a 0.4mm opening in the heart, Juliana a 0.56cm opening and Akula a 0.4cm one.
Hurlingham Heart Clinic cardiologist Christine Jowi says the children are being considered as beneficiaries for the Mater Heart Run fundraiser which will take place mid this year.
Immediate intervention
However, Jaramogi Oginga Odinga Teaching and Referral Hospital Medical Superintendent Juliana Otieno, who has been assessing their progress since birth, says the earlier an operation is done, the better.
"Their weight is going down. If the weight reduces completely, an operation will not be possible. The mother does not have money and does not know how to go about it," she said.
Ms Onyonge fears that the rate at which her children's are losing weight is worrying and hence would prefer a quick intervention to save their lives.
"I feel my children need urgent attention. My husband and I are currently jobless and cannot afford the Sh2.5million required for an urgent operation and expenses that will come with it," she said.
Onyonge was forced to close down her business to take care of the children. And as fate would have it, her husband Vincent Oketch lost his job soon after she was discharged from hospital.
The couple is now pleading for your intervention to save the children's lives. You can help via M-Pesa Paybill Number 343830.
Related Topics