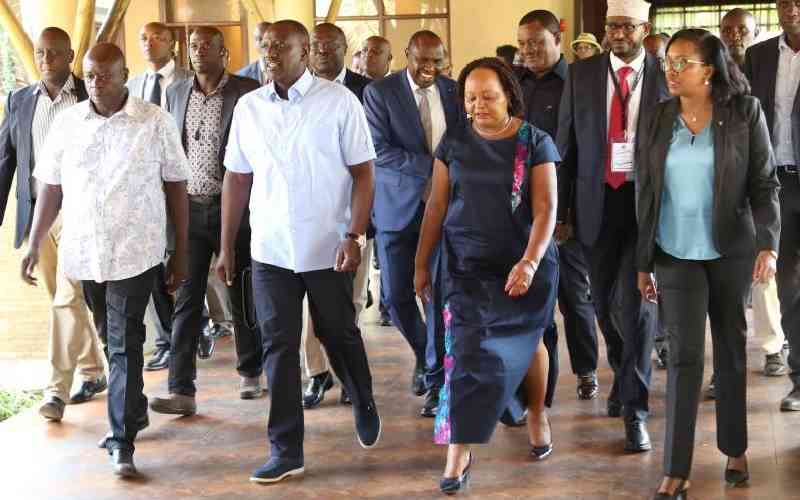 County governments are yet again staring at a prolonged cash crunch after the National Treasury said it is unable to disburse their equitable share of national revenue as the exchequer is yet to release any funds.
Appearing before the Senate Public Investments Committee on Friday, Principal Secretary Chris Kiptoo attributed the crisis to revenue collection shortfalls.
Counties have not received any money from the Treasury for the last three months amounting to Sh92.5 billion, meaning they are unable to execute most of their obligations.
As the Kenya Institute of Public Policy Research and Analysis (Kippra) puts it, while county governments have other sources of funds such as loans and grants, equalisation fund for selected counties, conditional grants from the national government and development partners, and from own source revenue, the bulk of the money (70 per cent) comes from the equitable share of nationally generated revenue.
This, therefore, means that when there are delays in exchequer releases, the devolved units are unable to undertake their day-to-day operations such as payment of staff salaries, money owed to suppliers and implementation of development projects.
For instance, most county government have experienced delays in paying salaries for its staff, including critical cadres such as health workers, putting the lives of Kenyans at risk in the event of industrial action. While it is understandable when Dr Kiptoo says that they delays are not deliberate and that even national government ministries, departments and agencies are awaiting the release of money for recurrent and development expenditure, including pensions, it is time a viable solution is found to this problem, which has now become perennial.
We also appreciate that since the advent of devolution, upwards of Sh2.5 trillion has been released to counties, way above the constitutionally stipulated 15 per cent of the latest audited accounts.
But still the national government needs to show more commitment to implementing devolution, which has been a game changer in many parts of the country. It is an indictment of the current administration, for instance, that it has sustained the push and pull between the Council of Governors, the National Treasury and Parliament regarding the share of national revenue that should be allocated to counties.
Even more worse is downgrading of the Ministry of Devolution from a full-fledged portfolio to a department in the Deputy President's office, which has made accountability to the Senate a complicated affair.
President William Ruto must walk the talk and ensure devolution delivers the promise and not just be another statistic of a failed governance system. Kenyans still hope that devolution of resources and power holds the key to real development, especially in marginalised counties. It can be done and the time is now.
Related Topics