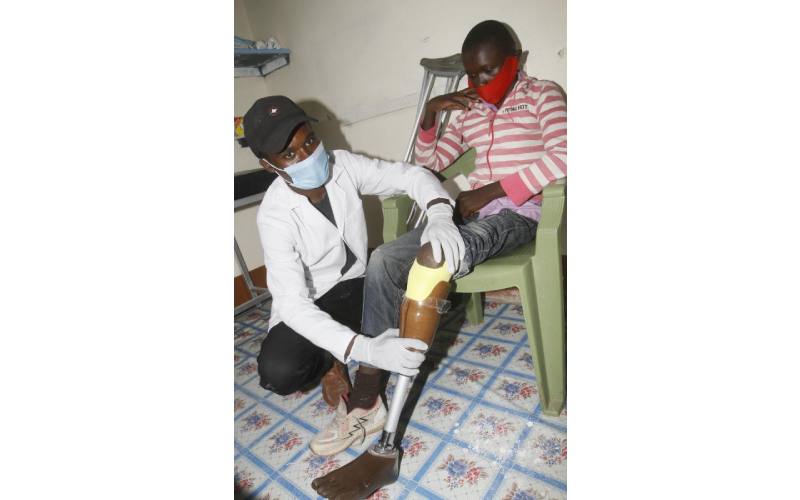 As schools reopened on Monday, Kelvin Kengwe lay helplessly in bed waiting for "a leg".
For seven months, the 14-year-old has been hoping for good news that a fitting for his amputated leg had been found and he would finally go back to school.
What started as an itchy swelling below the knee not only transformed his young life but became an embodiment of the struggles amputees in the country go through in pursuit of prosthetic arms and legs.
When he was wheeled into the theatre to stop an infection in his bones, the doctors promised that a prosthetic leg would give him the mobility he needed to get back to school.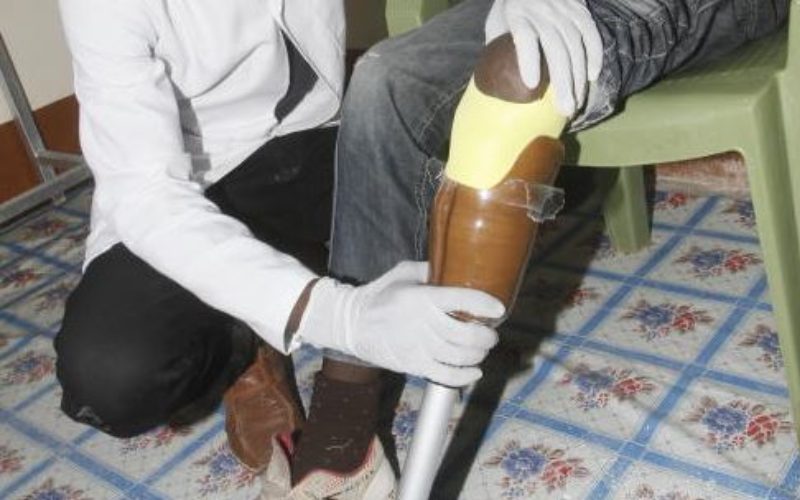 If all had gone according to plan, he would have been among the candidates reporting back to school to prepare for exams.
"Every day, he would ask me when he would get his "new leg". Doctors kept saying we have to wait as they try to find something. It was devastating, because the only thing he wanted after the stressful amputation was a leg, even if it is not a real one," says his father Robert Obwocha.
They had the option of going to a private institution for a fitting of the prosthetic leg, but it costs an average of Sh300,000 to get one, and they could not afford it. Most institutions that supply and fit prosthetics have to import the joints used in fixing to the stump.
The Covid-19 pandemic disrupted the distribution chain of the prosthetics, lengthening the duration it takes for the parts to arrive in the country.
"We have been out of stock for several months now. We are hoping that this year will be better. We get a lot of inquiries from people who desperately need prosthetics, but we tell them to wait," says Joyce Njoki who is in charge of sales at GM Medical that does sourcing and supply of medical facilities in East Africa.
She adds that the production rate for the products went down as some of the countries they depended on underwent lockdown and could not produce large volumes to meet the global demand.
Obwoncha says their pastor had to make a donation of Sh30,000 for them to travel from Nakuru to Nairobi to get the limb fixed after the long wait.
Victoria Aloo, a double amputee who was involved in a road accident in Ahero, Kisumu County in April, crawls to move. Her injuries need an above the knee prosthetic, which is more expensive. The joint needed for her fitting must be light to enable easy movement and it has to be sourced from abroad.
"I was told that the best joints come from Germany. The order was made, but it is taking too long to arrive. I will have to pay more when the joints get here. It is like being punished for being involved in an accident," she says.
Pascalia Ombongi, the coordinator of Affordable Limbs for All (Alfa), a community-based organisation that sources for cheaper and subsidised prosthetics for amputees, says it is disheartening to see some amputees opting to go without prosthetics because they cannot afford even the subsidised rates.
Ombongi says once the shipment arrives in the country, the tax that is imposed is so high and in most cases, it is amputees and well wishers who shoulder the burden.
"When you add the taxes and scarcity that the pandemic has brought, a lot of people who should be using prosthetic limbs to improve their quality of life are going without," she says.
Prosthetics technicians narrated how the process of finding the right fit and fixing them to the stump is complex, and that not many companies and professionals have invested in the production of prosthetics.
"You have to get the measurement right, use the right materials to avoid infecting the stump, and then start teaching them how to walk with their new legs," says Martin Murithi. He adds that there is also a lot of counseling that goes into getting the amputees to accept their new normal.
Murithi and his team make materials used in fixing the prosthetics, most of which are donations from developed countries.
Seith Simiyu, Chief Orthopedic Technologist at Kijabe Mission Hospital who deals with fixing prosthetics at the institution, says they had to get a local supplier to ship materials for them when it became too expensive to ship on their own. He says one component that costs Sh5,000 would shoot to more than Sh40,000 due to taxation and the fee that middlemen charged.
"We have to keep balancing between pricing and quality. We used to charge Sh80,000 for above the knee, but now the lowest price is Sh150,000 when we use light joints," says Simiyu.
The biggest challenge, he adds, is that insurance companies do not cater for prosthetic limbs. He says even the National Hospital Insurance Fund (NHIF) classifies prosthetic fitting as cosmetic surgery, and this makes it un-affordable even for those with medical insurance.
In most cases, the patient has to walk in with Sh70,000 and above for them to get the procedure done.
Simiyu says most people will need regular checkup and refitting every year, making it even more expensive.
Related Topics