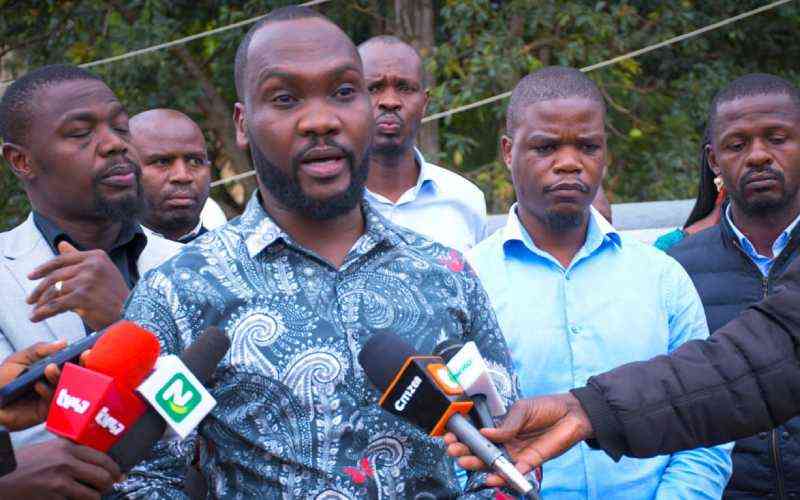 Doctors in Nyamira County have threatened to down their tools on Monday, September 25 over delayed promotions and understaffing, if the county government fails to address the issues they have raised.
In a communique by the Kenya Medical Practitioners and Dentist Union (KMPDU) secretary-general Davji Atella the doctors say the county has employed 30 doctors, to serve a population of over 650,000 residents.
They also accuse the county government of failing to honour previous agreements.
"The Nyamira County Government has failed to honour the RTWF and a court order dating back to 2021. This has left our dedicated doctors in a state of limbo, with prolonged probation periods, no promotions for consultants and doctors for over eight years, and even demotions. The situation is dire, and it's time for action." Atella says.
"Furthermore, the shortage of doctors is reaching a breaking point, with just 30 doctors serving a population of over 650,000 residents. It's not just demotivating for the healthcare workforce; it's a disservice to the people of Nyamira."
To give the county government time to address their grievances, the KMPDU-Nyanza branch issued a 21-day strike notice to the county government, which expires on September 25.
On September 4, 2023, KMPDU-Nyanza branch secretary Dr Aggrey Orwenyo wrote to the county government, airing the doctor's plight.
In the letter, the doctors demanded a formal commitment by the county government to promote doctors in the county, confirm doctors on probation and issue a directive for KMPDU members to access loan services from banks.
The doctors say the county government has on many occasions failed to honour a directive by the Employment and Labour Relations Court (ELRC) on promotions.
"The Return to Work Formula (RTWF) signed on 26. January 2021 following the negotiations, between KMPDU and the County, over the strike by the doctors. which had commenced on 15. September 2020. Both parties agreed and signed an RTWF addressing the doctors' promotions. hence calling off the strike. The ELRC court adopted the RTWF 00 24" February 2021." Dr Aggrey's letter reads.
"Career progression for our members is a continuous process and should be undertaken routinely, yet the County's actions are in breach. The County's actions, on our members' legal and rightful promotions and or designations. are contemptuous and in open contravention of the CBA. the RTWF. and the Revised Schemes of Service for Doctors. There is a total lack of implementation of such within the prescribed period. This amounts to unfair labour practices."
KMPDU-Nyanza Branch doctors have told the Standard that Nyamira County Government has not responded to their letter yet.
"They've never responded to our letters nor accepted to schedule meetings to discuss our issues"
Related Topics