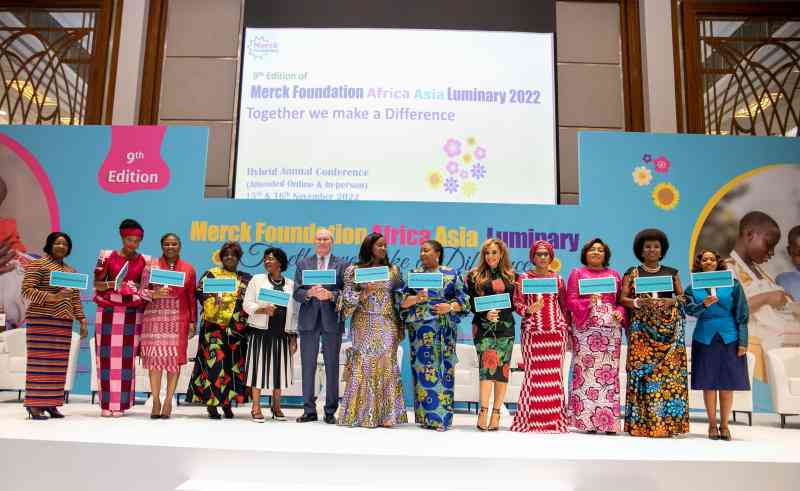 Over the years, women who struggle with infertility have faced stigma and judgment, and their worth has been questioned based on what their wombs can offer.
In most communities, a woman must be a mother. When she reaches a certain age, comments such as, 'your biological clock is ticking' are recklessly uttered. And while some women have chosen to be child-free, others are struggling with infertility.
"Our silence is deafening. That is why I picked the 'taboo' subjects, the Hands Off Our Girls campaign to end child marriages, rape, and teen pregnancy," said Dr Fatima Maada Bio, First Lady of Sierra Leone. She added that women need to be allowed to speak up.
Dr Bio was one of 16 African First Ladies who are ambassadors of the Merck Foundation's 'More Than a Mother' campaign. They were attending the foundation's ninth edition of the Africa Asia Luminary in Dubai.
"More Than a Mother," a campaign by Merck Foundation targets to break the stigma by empowering women and sensitising the masses.
During her speech, The First Lady of Botswana, Mrs Neo Jane Masisi, said that the Covid-19 pandemic exposed the gaps in the health sector and showed how the health sector is at risk.
"As an ambassador, I am excited to be part of this valuable partnership. To continue to end infertility stigma and gender-based violence (GBV). Also, non-communicable diseases remain a threat and Covid confirmed it," she said
Masisi said that as GBV continues to destroy families, her government has set up efforts to end GBV.
"We have published children's books, to highlight GBV and abuse. This aims to encourage people to speak out as that is the only way to get help," she said
The publishing of books as a way to sensitise the masses was mentioned by all the first ladies. What also cut across is the fact that when a couple faces conceiving challenges the woman is always the first one to blame even before medical tests are done.
The First Ladies also talked about the challenges of accessing quality health services, giving the example of infertility interventions, which are not covered by many medical insurance providers.
During day 1 of the conference what was clear was one of the challenges surrounding infertility is access to better health services.
Dr Bio said the biggest challenge the trained doctors face is the lack of facilities to work with. "So we are building a 500-bed capacity hospital."
One of the solutions the countries were able to offer in partnership with Merck Foundation was training doctors. The trained doctors are already contributing in their respective countries. They were trained in sexual reproductive health, oncology, diabetes, pediatric emergency, and respiratory care among others.
Dr Bio also spoke about championing a day to commemorate rape victims. She made the suggestion while addressing the UN delegation, and November 18 was set aside to stand and support rape survivors.
The Founder of Merck Foundation, Prof Dr Frank Stangberg Haverkamp said the campaign aims to end stigma and empower women.
"We will never be able to do this without your excellencies support, let us join hands. Everyone should live a happy fulfilling life," he said.
The Chief Executive officer of Merck Foundation Senator, Dr Rasha Kelej celebrated the milestones achieved by the foundation.
"We are proud that Merck Foundation has realized the right strategy to improve access to quality and equitable healthcare solutions in each country in Africa," she said
The 2-day conference was a hybrid event that guests, including healthcare providers, policymakers, and researchers, attended in person or virtually.
Related Topics