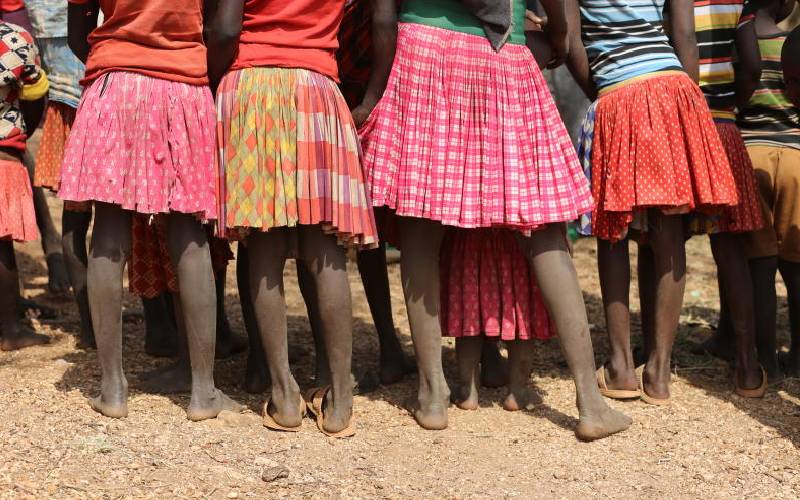 Lerinto ole Roinet, a father in Oloitoktok, Kajiado County is a disturbed man. He regrets forcing his wife to secretly transport their only daughter to Tanzania in August 2020 for Female Genital Mutilation by her aunt, a well-known cutter.
His wife, Nkanai Naeku, thought all would go well, but now also regrets after their daughter bled profusely, almost to death.
"We tried everything to stop the bleeding, but she lost consciousness and I knew she was dying," she recalls, tears rolling down her cheeks.
The cutter did her best to make the cut safe, but "the traditional doctor we had called could not stop the bleeding, everyone deserted us and we were left with just my aunt. I panicked. I tried to make calls and fortunately, we got a professional doctor who saved my daughter's life."
The practice is most rampant over long holidays like Easter when girls from Kenya are moved to Tanzania to undergo FGM.
Naeku was afraid of taking her daughter to the hospital for fear of being arrested since FGM is illegal in both Kenya and Tanzania.
"I told God if He saved my daughter's life, I would never again support FGM," says Naeku whose daughter was 13 and has since missed two years of schooling.
Her husband, Roinet, had planned to marry off his daughter in exchange for livestock and money from a wealthy suitor.
"We Maasai men think 10 cows will make us wealthier. But I now realize I would rather be poor and keep my daughter alive and take her to school than lose her" says the anti-FGM activist.
The daughter is joining Form One in a neighbouring secondary school.
Despite anti-FGM laws in Kenya, the deep-rooted practice persists as communities find new ways to evade prosecution.
But Alice Nanana, chair of Women's Crossborder Traders is glad "FGM prevalence rates have reduced in Kajiado, but there are some hard-headed parents who liaise with brokers and relatives in Tanzania to secretly move the girls."
She adds that most girls are a bit enlightened and run away from home when thy sniff attempts to cut them "but parents have developed new tactics and lie that they're paying a visit to their relatives in Tanzania, only to be forced to undergo FGM," says Nanana.
The brokers mostly transport the girls at night to avoid arrests.
One of the brokers we meet at the Meto, Engarenaibor, Longido District explains they have no choice, but to transport the girls to make ends meet in this tough economic times even though "deep down it hurts to know we are contributing to the pain of these girls, but even if I did not do this business, the practice is our culture and it will continue," says the 28-year-old who sought anonymity.
Residents at Namanga Border finger poverty as the reason for FGM practice since its lucrative business for cutters and transporters from which "some of them have even bought land and built houses," says Lekarokia Lemashon, chair, Kajiado County Nyumba Kumi Initiative adding that girls without relatives in Tanzania are spirited to Meto for the cut in groups.
Nanana says some 10 girls were recently returned to Kenya and a secret mass wedding held in a homesteads and "just like that, they are not going to continue with their education. It is sickening."
Eliud Nalungu, the Assistant County Commissioner in Namanga says it is difficult to get data on cross border FGM due to secrecy and conspiracy by locals to abet the crime.
"The borders are porous," laments Nalungu, "because there are no police on some routes" but Kenyan and Tanzanian are collaborating to arrest culprits from either country for prosecution.
Mamkwe Thomas, a Tanzanian local from Kikelwa in the Kilimanjaro region, says community involvement in saving the girls from the cut has also helped to report cases to authorities.
In Kenya, FGM attracts a three-year imprisonment and a fine of Sh231,400 while Tanzania slaps a five to 15 year imprisonment or a fine of up to TSh300,000 (Ksh14,471).
Anti-FGM advocates attribute this lack of harmonized law as one of the reasons why cross-border FGM is rampant between Kenya and Tanzania.
Related Topics