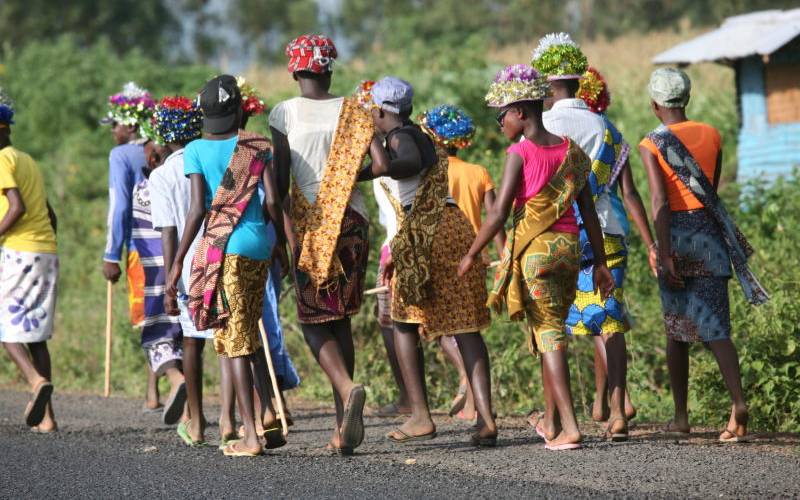 A cross-country initiative has been launched to stop movement of girls from Kenya to Tanzania so as to undergo the female cut during the Easter holiday.
Human rights activists from the two countries affirmed their resolve to work with authorities to stop cross-border female genital mutilation (FGM).
In a meeting in Kehancha, Migori County, the group said the deeply rooted culture among the Kuria community from the two countries could be stopped through collaboration.
"Our key goal is to work as a team together with the government to end FGM. It is we human beings that set up the traditions and we can change them," Catherine Boke who is Tunaweza Empowerment programme leader said.
Efforts by the government to end the vice in Kuria are yet to bear fruit.
Last year, the anti-FGM board met with elders from the community and signed an agreement putting an end to the practice.
Further, the board funded the elders as per their request to go to the shrines and perform rituals that would make them declare that FGM in Kuria is over.
However, despite these elaborate efforts, the practice continues with fears of widespread cuts during the coming Easter holidays.
In December, about 400 girls were rescued and 80 people arrested in connection with conducting and subjecting girls to FGM.
According to the stakeholders, slow response by authorities when alerted of planned female circumcision rites led to more girls being circumcised.
"Lack of collaboration between the public, government and rights groups has been a huge hindrance to ending FGM," Director of communications for the Global Media Campaign Jeremiah Kipainoi, said.
According to the stakeholders, although some girls were rescued during the Christmas break, there was still a large number that underwent the cut.
In 2020, about 3,000 girls were circumcised and last year, two clans — Bumera of Tanzania and Renchoka from both countries — conducted the rites that saw more than 800 girls being cut.
State and non-state actors have put in place efforts to eradicate the vice in the community in terms of information campaigns and policy changes.
This has, however, been met with challenges such as lack of permanent and operational rescue centres as the existing one in Migori is idle and lacks equipment.
The move by the public to withhold information from authorities also poses another challenge towards the fight against FGM.
Furthermore, women involved in performing the rites on girls are also "protected" by clans practicing FGM and people are unwilling to expose them for fear of being cursed.
One of the emerging fears is that the cut is now being viewed as business venture rather than a cultural practice as enough information has been given to the public and they know FGM is an outlawed practice.
Circumcisors are also coming up with new ways of perpetuating FGM. In Tanzania, they are moving to remote areas with the girls where they perform the cut on them.
Another strategy being employed by the perpetrators in a bid to escape police scrutiny is mixing girls with boys and dressing them in a similar manner, making it difficult to pick out the girls or know if they were being subjected to FGM.
Activists at the two-day stakeholder forum will now partner with local authorities and carry out an early rescue exercise for girls at risk of being subjected to FGM.
While Kenya has a special Act protecting girls against FGM, Tanzania stakeholders noted that the country lacked such a law and only used the penal code with a low penalty against parents and cutters.
They noted that for someone arrested for subjecting a girl to FGM, a fine of Tsh500,000 (Sh24,500) or a jail term of 12 years is issued. In Kenya, the FGM fine is Sh200,000 or a jail term of three years.
According to Vincent Mwita, a human rights defender and a coordinator for Tunaweza empowerment, a circumcisor is paid Sh1,000-1,500 per girl that they cut.
The prices are relative in Kenya and Tanzania.