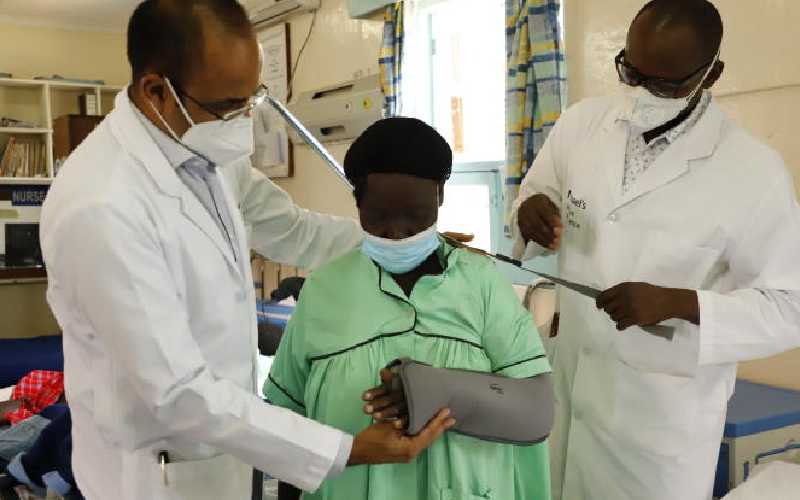 A two-year agonising wait for Esther Jerotich has finally ended.
At 65 years old, Ms Jerotich has not only got a new lease of life but was also part of making history at the Moi Teaching and Referral Hospital (MTRH), where she underwent a complex reverse shoulder replacement surgery.
The procedure said to be the first of its kind in a public hospital in Kenya, took five hours, and involved a team of ten specialised doctors.
Ms Jerotich, a resident of Cheplanget village in Kericho County, dislocated her shoulder two years ago after a fall.
Frequent use of antibiotics and painkillers did not relieve her pain, and she developed osteoarthritis (chronic wear and tear of the joint).
Before the operation on Wednesday, Ms Jerotich had visited several hospitals across the country seeking treatment, but to no avail.
When The Saturday Standard caught up with her yesterday, she was still trying to wrap her mind around what had happened.
"How did I become the first case study of such a complex operation? I am the happiest woman. I would like to be discharged and join my family in celebration as I recover," she said.
Dr Harsh Valgadama, the lead orthopaedic surgeon, said the operation was a milestone in the medical field, because the patient-aid shoulder replacement is not common.
"We have done this kind of operation outside Kenya, but here, we had to be extra keen, because we did not want anything to go wrong. By God's grace, it went very well," said Dr Harsh.
The surgeon said osteoarthritis is not common in the shoulder as it mostly affects the knees and hip. But being a chronic inflammation, it degrades tissue in the joint, making it critically painful.
"Osteoarthritis is not treatable and oral use of medication causes complications to patients. That is why shoulder replacement is the only solution," he said.?
Dr Paul Makokha Okutoyi, the senior orthopaedic and trauma surgeon, and who was the assistant lead surgeon, said before the procedure, they consulted extensively with each other and with their trainers abroad.
"Being the first operation, several things went through our minds; for instance, would it turn out positive or negative, an issue that really stressed us up," recalled Dr Okutoyi.
He added, "We are glad that the operation was a success, and the patient is happy as well".
The patient is expected to recover after one month, and will attend physiotherapy sessions.
Dr Harsh noted that shoulder replacement surgeries are often prohibitive in terms of costs, especially in developing countries.
Costs for shoulder implant replacement range between Sh350,000 to Sh400,000, excluding doctors' fees and other costs.
It was also the first time the National Health Insurance Fund (NHIF) approved the procedure without out-of-pocket costs incurred by the patient.
Related Topics