Home
/
Health & Science
How Kenya turned Covid scourge into an advantage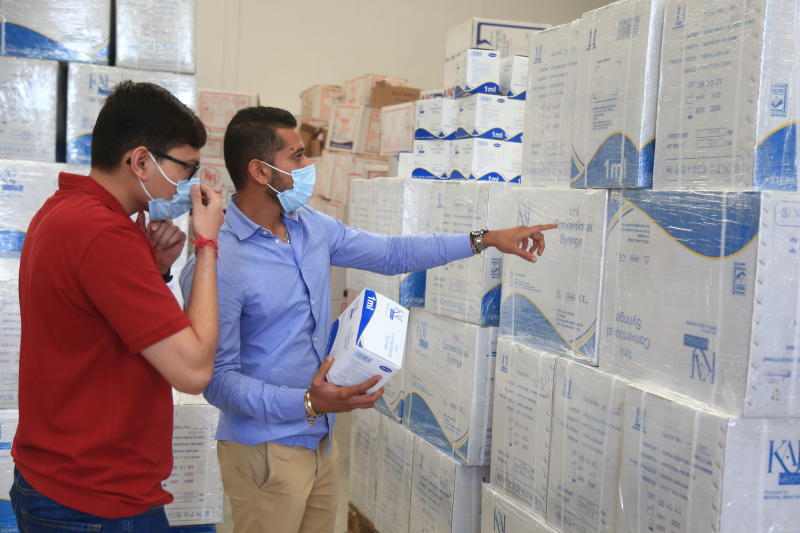 The Coronavirus pandemic declared in March last year was a blessing in disguise for the medical field and local companies, President Kenyatta said in his State of the Nation Address yesterday.
The head of state told Parliament that though the pandemic had an impact on the economy, its negative effect was 14 times lesser than that on the global economy due to his government economic stimulus programme.
The biggest beneficiary of the pandemic, said the President was the health sector which witnessed improved health systems with the number of ICU beds that stood at 108 countrywide, increasing by over 500 percent.
See also https://www.standardmedia.co.ke/national/article/2001430614/state-of-the-nation-address-how-kenya-weathered-covid-storm
From a capacity to generate only three million litres of oxygen per day, the pandemic saw capacity increase ten times to 32 million as at this October.
While by March 2020, Kenya had only one laboratory that could test notifiable diseases of international concern, it now has 95 well-equipped laboratories and the President reckoned that Covid-19 taught us that "our solutions must be home-grown.
That is why we have commissioned a vaccine development project for disruptive viruses like Covid, to serve not only Kenya but also the region."
The pandemic also shifted focus to Universal Health Coverage through training more doctors annually and whose numbers rose from 620 in 2013 to the current 900, said the president.
The number of Kenya Medical Training College campuses also rose from 28 in 2013 to the current 71 and from graduating slightly over 100, they now cumulatively graduate over 3000.
A Trauma and Counseling Centre has also been commissioned at Manda in Lamu County.
Other achievements, he said, are free maternity that has seen more women now getting skilled delivery and Linda Mama cover that has saved Kenyans more than Sh81 billion.
Local companies have also benefited as the government acquired locally made hospital beds with North Eastern, Nyanza and Nairobi among the main beneficiaries of increased bed capacity.
Other companies that took advantage of the pandemic included Revital (EPZ) in Kilifi County which the President said "became Africa's largest producer and exporter of vaccine syringes during the Covid Period.
In 2020 alone, Revital exported over 70 million Covid vaccine syringes to over 20 countries globally."
President Kenyatta added that "Revital currently has the capacity to produce 300 million Covid vaccine syringes every year. The global shortage for Covid vaccine syringes stands at two billion syringes a year."
This means that Revital is able to produce one out of every 10 Covid vaccine syringes globally after seeing an opportunity in the Covid crisis for which it "adapted accordingly, and innovated its business processes to optimise on the new opportunity," President Kenyatta.
He also named Hela Clothing, a global apparel-making company with a foothold in Kenya and which "in the first months of the pandemic… changed its strategy from producing clothes to producing PPE and facemasks.
With the WHO requirements of 80 million facemasks per month at the height of the Covid duress, Hela produced five million masks a month between April and May 2020."
He added: "This means that through innovation Hela manufactured one out of 16 masks required globally per month; contributing immensely to the slowing down of the Covid pandemic. This was a case of seeing opportunity in a disaster and adapting to its challenges."
The pandemic also saw the country establishing the Kenya Biovax Ltd to locally produce anti-Covid-19 vaccines through 'form and fill' but eventually manufacture our own vaccine by Easter of 2022.
Health budget also increased to Sh121 billion this financial year, the biggest in the East African Community besides increased number of health facilities by more than 43 percent in the last eight years-from 4430 in 2013 to over 5000 registered health facilities today.
He also cited the upgrading of Kenyatta University Teaching and Referral in Nairobi, the Kenyatta Hospital in Gatundu, Kiambu County and the Othaya Hospital besides a Level 4 Hospital in Kahawa Garisson and plans to open another in Isiolo.
Regarding military health facilities, the President announced plans for three additional Level 4 Hospitals – Eldoret for the Defence Forces, Ruiru for Prisons and Mbagathi for the Police besides upgrading the Forces Memorial Hospital to a Level 5 facility early next year, in addition to the ongoing construction of the Level 6 Hospital for the Defence Forces, off Waiyaki Way in Nairobi.
The number of Kenyans under the National Hospital Insurance Fund, also rose from four million in 2013 to 10.5 million currently as part of achieving Universal Healthcare.
The government, he said, was on course to vaccinate 10 million people this year and urged adult Kenyans to get the jab.
Related Topics