Home
/
Health & Science
Frequent urination, constipation could be ovarian cyst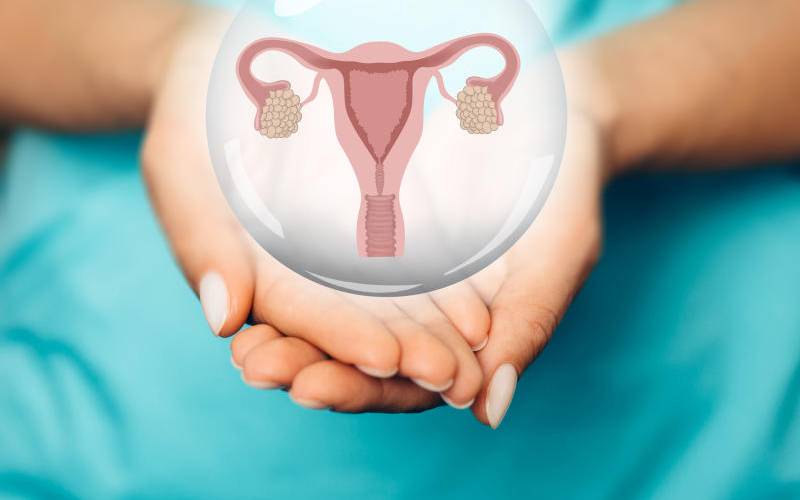 An ovarian cyst is a fluid-filled sac within or on the surface of an ovary. It is mostly benign, meaning it's non-cancerous and will disappear within a few months. But sometimes the fluid accumulates, making the cyst grow bigger causing complications.
Dr Fredrick Kairithia, an obstetrician/ gynecologist explains that an ovarian cyst is a common condition and may affect women of reproductive age between 15-45 years. There is a peak for women aged between 25 and 35 as it's the optimum age for hormonal functioning and productive activity, and some ovarian cysts are fuelled by female hormones.
Dr Kairithia says that if ovarian cysts occur outside the reproductive age, one should be suspicious of it. He says the cause of ovarian cysts is unknown, but maybe linked to multiple causes.
There are developmental cysts that may form after a failed ovulation. They could also be caused by hormonal disturbances commonly called poly-cystic ovarian syndrome (PCOS), a hormonal disorder causing enlarged ovaries with small cysts on the outside.
"The cause of PCOS isn't quite well understood but may involve a combination of genetic and environmental factors, meaning some people are genetically predisposed to having ovarian cysts," explains Dr Kairithia, adding that some cysts occur in women who are obese.
Majority of ovarian cysts are asymptomatic, making them hard to diagnose and sometimes causing symptoms which vary depending on the nature of the cysts.
Pain is a common symptom of ovarian cysts when they grow bigger and "the pain may be felt on both sides of the ovaries or on one side, because they may occur on either side," says Dr Kairithia.
Acute pain will be experienced when they undergo torsion (a twist) causing the blood supply in the ovaries to reduce while others may also interfere with the hormones and cause hormonal imbalance.
If they are large enough, they may cause pressure symptoms, for instance, pressing on the urinary bladder causing frequent urination or a feeling of constipation if it presses on the rectum.
"Oftentimes they are an incidental diagnosis just as an incidental finding, when you're looking for other things," he says and thus there is need for an annual check-up especially for women with ovarian cysts beyond their 40s. Being asymptomatic, cancers arising from the ovaries tend to be detected very late.
A woman should go for checkup when the pain is persistent and not responding to common painkillers, when an ovarian cyst recurs and if ovarian cysts run in the family.
"Many women may carry very large cysts with them and will only realise it when it starts pressing on other organs or when there is bleeding within the cysts, called hemorrhagic cysts," explains Dr Kairithia. "This brings about acute pain."
Having an ultrasound is, however, the best and easiest way of finding out if one has an ovarian cyst and there are three levels of management, according to Dr Kairithia: reassurance, medication and surgcal removal.
Since the cysts may go away in three months, the doctor does nothing, but waits and reassures you. The second level is using common pain killers and sometimes hormonal medicine.
"If you think the cysts may be infected, you can add an antibiotic but that depends on the size of the cysts and the symptoms," he explains adding that in case of bigger cysts then surgical removal to drain or completely remove them is recommended. For cysts occurring beyond the reproductive age, tumor markers are used to check for malignancy.
Related Topics