Home
/
Health & Science
US no longer trusts Kemsa to distribute HIV drugs
Health & ScienceBy Mercy Kahenda | Mon,Apr 26 2021 00:00:00 UTC | 2 min read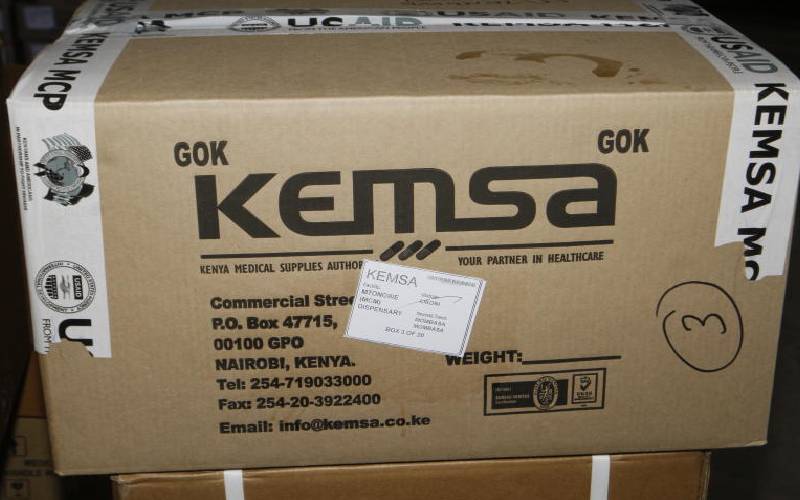 Wrangling between the Kenya government and a US donor agency over distribution of Sh1.1 billion worth of ARVs continues to expose million of Kenyans living with HIV to risks of death.
Weeks after the government reportedly waived taxes on the donated drugs, the controversy deepened when United States Agency for International Development (USAid) insisted that Kenya Medical Supplies Agency (Kemsa) will not be charged with distribution of the same.
A source from the Health ministry intimated that USAid had lost trust in Kemsa and demanded that distribution be done by Chemonics International, which the US government has contracted for transparency purposes.
USAid shipped the consignment of Tenofovir, Lamivudine and Dalutegravir this January, but the government slapped a Sh40 million tax on it before allowing its distribution. Kemsa was also not involved in the procurement process by USAid, the largest donor for Kenya's ARVs.
Health Cabinet Secretary Mutahi Kagwe told the National Assembly Committee on Health last week that "Kenya blocked the consignment at Mombasa port and demanded taxes because the shipment was imported without the ministry's involvement".
Restructure operations
Kagwe said Chemonics was contracted instead of Kemsa over lack of trust, but added this would be rectified by restructuring the agency's operation systems and "hopefully this is something we're going to finalise as quickly as possible".
The shipment wrangle was later resolved, but the bulk of the 1.5 million Kenyans who collected the drugs from various health facilities countrywide were beginning to have secondary health problems occasioned by the delay and outbreak of the third coronavirus wave.
Indeed, many HIV patients were put on weekly instead of monthly supply of drugs due to the impasse. There was also shortage of septrin, among other drugs, for opportunistic infections on hospitals shelves, due to delay in procurement.
The Pharmaceutical Society of Kenya CEO Daniella Munene told The Standard that without involving a state agency, in this case Kemsa, the ARVs ended up being treated like a private consignment for which necessary taxes were to be paid.
Munene proposed three ways of ensuring delivery of the ARVs devoid of delays: Waive the tax, Chemonics to embrace the right procurement procedure or hand over the drugs to Kemsa for distribution.
Related Topics