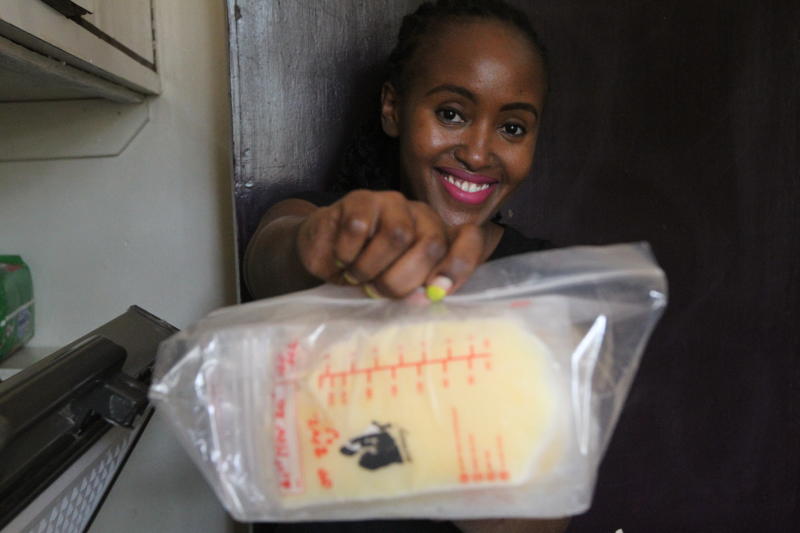 When Phyllis Mwanthi, a mother of two delivered her second baby five months ago, she immediately started expressing breast milk to ensure the little one survived exclusively on the 'liquid gold' for six months as science recommends.
Her baby now almost transiting to solids, Mwanthi realised she has extra bags of frozen breast milk that her baby might never need.
As of last week, Mwanthi had been expressing the breast milk daily and ensured she stored at least 400ml.
"I stored the milk in a deep freezer. Recently I noticed that it was filling up yet I am still storing 400ml every day. That is when the idea to donate hit me," she says.
She called Angels Centre for Abandoned Children home in Waithaka, Dagoretti South Constituency, and asked if she could deliver the milk there.
The director of the home accepted the donation but needed Mwanthi to provide a letter from her doctor indicating that she had been tested for infections such as HIV and Hepatitis B.
"I went for the tests and got the greenlight to donate the milk from my doctor," she says.
On Monday, she delivered 8 litres of the breast milk which will be used to fed abandoned children.
"I am producing enough for my daughter. I did not want to throw it away yet another child may need it," Mwanthi says.
Had she wanted to donate at a health facility, Mwanthi would have been denied the opportunity.
This is because Kenya has only one human milk bank which is located at Pumwani Maternity Hospital in Nairobi and only mothers who deliver at the facility are allowed to donate breast milk to the bank.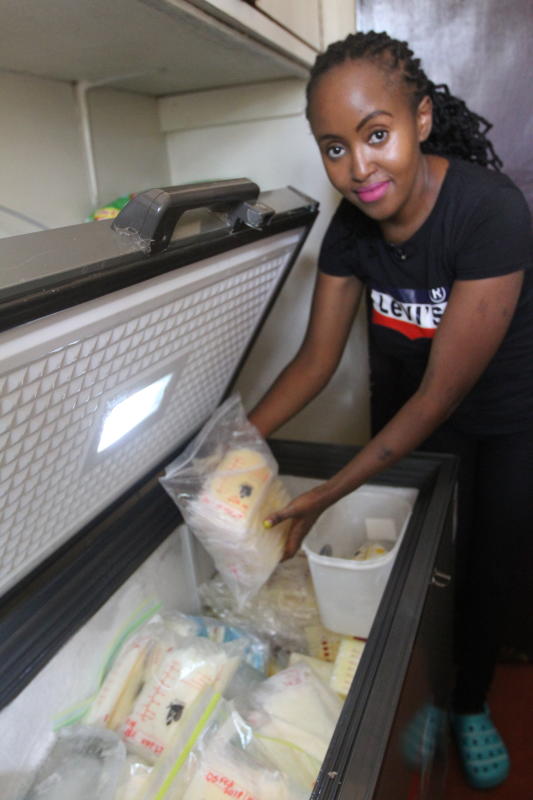 "The bank at Pumwani only takes milk from mothers who have gone to the hospital to deliver. The donor could be producing more milk than their baby needs. If the mother is voluntarily willing to donate the milk, they would first go through screening," says Esther Kwamboka who is currently the Head of Nutrition at Mbagathi Hospital in Nairobi but oversaw the installation of the bank in March 2019, when she was Nairobi County's nutrition coordinator.
Screening, Kwamboka says, involves taking the health history of the mother, testing them for infections such as HIV, Hepatitis B, Syphilis and other communicable diseases.
If the donor passes the test, they are directed to express the milk in a cleanroom under high hygiene conditions.
A sample of the donated milk is tested for the presence of pathogenic microbes. If certified to be of good quality, the milk is pasteurised.
Pasteurisation will see the milk first get heated to 60.5 degrees Celsius for 30 minutes, and then suddenly cooled to negative 18 degrees Celsius.
"Pasteurisation kills all microbes that may have been present in the milk but it has to be tested again after this process," Kwamboka says.
Past this stage, the milk is declared healthy and can be given to a child who needs it.
According to Kwamboka, children who need donated milk often cannot access their own mother's milk.
"Maybe the mother is deceased, or the baby was abandoned, or the mother is too sick to the point of not being able to breastfeed," she says.
The importance of breast milk, says Dr Njogu Kamenwa, a consultant paediatrician and neonatologist at Waridi Children's medical centre in Nairobi, cannot be overstated.
"Babies who are exclusively breastfed tend to fight off infections much more effectively," Dr Njogu says.
As things stand, Kwamboka says, there are no formal channels for Kenyan women to just walk in and donate breastmilk.
"I have seen on social media some women 'supporting' other mothers with donated breastmilk at some hospitals. I have also seen children's homes asking for breastmilk donations. But these are extremely informal channels," Kwamboka says.
A formal channel, she explains, would see policies formulated on such donations.
"The bank at Pumwani collects information of the donor and the recipient such that the milk can effectively be traced," Kwamboka says.
Rose Wambu, the maternal, infant and child nutrition manager at the Ministry of Health says it will take time before formal channels are effectively established to allow mothers to donate breastmilk.
The Pumwani breastmilk bank is part of a study whose report is expected anytime now. It is from the report that Wambu believes findings will inform the setting up of formal breastmilk donation.
Related Topics