Home
/
Health & Science
Boost as firm digitises patients health records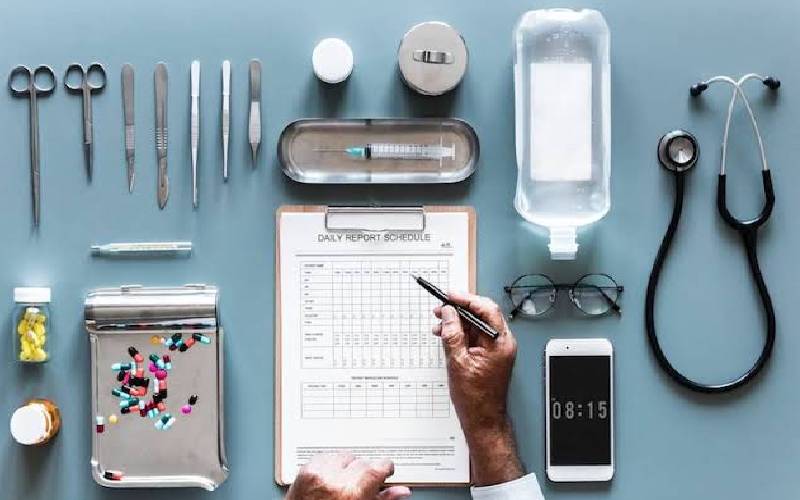 An e-commerce company has digitised thousands of patient's medical records in a bid to meet the growing demand for quick access to health data.
The move by Medbook Kenya, a joint venture between Strathmore University and I-Lab Africa will help healthcare professionals, insurers and pharmaceutical companies predict and respond efficiently to the outbreak of deadly diseases such as Covid-19.
The innovative universal healthcare platform allows physicians to securely store, access and share patient's medical records at the touch of a button.
Speaking to Standard Digital on Monday, Medbook Kenya General Manager Oscar Ng'ang'a, said the built-in data analytics platform has the capability to predict, prevent or minimise physical and financial burden that epidemics and outbreaks can cause countrywide.
"Once you extrapolate the data and take a big picture view of millions of records, insurers, drug companies and hospitals can not only react efficiently to the challenges of today, but they will also be able to predict and respond more efficiently in the future," said Ng'ang'a.
Tracking records
By providing telemedicine, and digitising medical records, patients now have the tools to track their own medical records and share them with practitioners anywhere.
For instance, Med360+ by Medbook is a Health Management Information Systems (HMIS) that addresses all needs of a medical facility, from patient tracking and drug management to lab work, billing and finance.
"We also have a revolutionary solution dubbed Mediclaim-an authentication and claims processing health management subsystem used by underwriters to manage the claims process from identification to payment," explains Ng'anga.
More than 2 million patients, 1000 doctors and over 500 providers are currently able to access diverse patient data including medications, treatment plans, laboratory and test results using the platform across seven countries in Africa.
"As we grow, we can analyse patient trend lines on how healthcare is being applied, what major healthcare issues are pertinent, and even study specific outbreaks or diseases, in furtherance of our mission not just for Kenya but across Africa," says Ng'ang'a.
He said the six-year-old platform has helped physicians eliminate redundant testing, administer proper drugs and boost efficiencies between doctors and patients.
The founders drew inspiration from the fact that there was no available solution in the Kenyan market to digitise health-related services by 2014.
"Managing health records on paper is labour intensive. Medbook entered the space that was untapped by creating health-related solutions that would address this problem and other emerging issues at the time," he said.
He linked the rising cases of fraudulent claims in the insurance industry to overreliance on paper-based transactions that are often scattered across many institutions.
Save cost
Ng'ang'a said leveraging on digital records will help many Kenyans, especially in remote areas save costs on expensive journeys and other healthcare burdens like the need to retest, re-diagnose and retreat when patients attend facilities that cannot track their records.
"We foresee health-tech being a major driving force in the healthcare industry in the next 5 to 10 years just like fin-tech revolutionised the finance sector. More people will now have access to certified doctors, certified medicine and access to health facilities," he said.
Medical Insurance coverage is also tipped to be readily accessible as patients will be easily connected using mobile Apps.
Related Topics