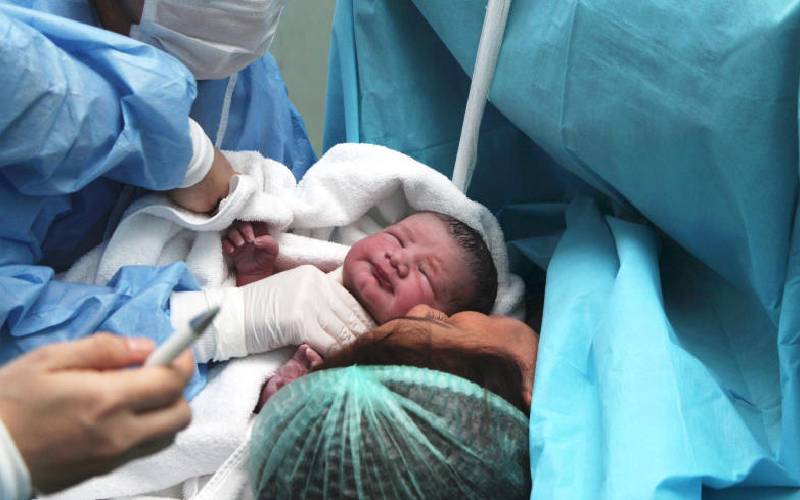 A Singaporean woman, who was infected with Covid-19 in March when she was pregnant, has given birth to a baby with antibodies against the virus, offering a new clue as to whether the infection can be transferred from mother to child.
The baby was born this month without Covid-19, but with the virus antibodies, the Straits Times newspaper reported on Sunday, citing the mother.
"My doctor suspects I have transferred my Covid-19 antibodies to him during my pregnancy," Celine Ng-Chan told the paper.
Ng-Chan had been mildly ill from the disease and was discharged from hospital after two-and-a-half weeks, the Straits Times said.
Ng-Chan and the National University Hospital (NUH), where she gave birth, did not immediately respond to a request for comment.
The World Health Organisation (WHO) says it is not yet known whether a pregnant woman with Covid-19 can pass the virus to her foetus or baby during pregnancy or delivery.
To date, the active virus has not been found in samples of fluid around the baby in the womb or in breast milk.
Decline over time
Doctors in China have reported the detection and decline over time of Covid-19 antibodies in babies born to women with the coronavirus disease, according to an article published in October in the journal Emerging Infectious Diseases.
Transmission of the new coronavirus from mothers to newborns is rare, doctors from New York-Presbyterian/Columbia University Irving Medical Center reported in October in JAMA Pediatrics.
Even as the case is reported, WHO notes that there is no evidence that pregnant women can transmit Covid-19 to newborns during delivery and breastfeeding.
However, research is ongoing to understand the disease in pregnant women.
But, due to changes in their bodies and immune systems, WHO advises pregnant women to take precautions to protect themselves against Covid-19, and report possible symptoms such as fever, cough, or difficulty breathing.
In addition, they are required to regularly wash their hands with soap and running water or an alcohol-based hand rub, besides observing physical distancing.
The global health organisation further advises pregnant women to avoid touching their eyes, nose or mouth.
"All pregnant women, including those with confirmed or suspected Covid-19 infections, have the right to high-quality care before, during and after childbirth. This includes antenatal, newborn, postnatal intrapartum and mental health care," states WHO in a question-answer session published on March 18.
Further, pregnant women are advised to give birth normal way, with caesarean section only performed when medically justified. "The mode of birth should be individualised and based on a woman's preferences alongside obstetric indications," states WHO.
Mothers can also breastfeed their newborns if they wish to do so. "Exclusive breastfeeding helps a baby to thrive," adds the report.
Dr Fredrick Kairithia, an obstetric and gynecologist told The Standard in an interview that pregnant women should visit hospitals for birth.
"At the hospital, temperatures and other symptoms of the disease will be checked, including close monitoring of other conditions that may arise at birth, risking transmission," said Dr Kairithia.
But he encourages the expression of milk or introduction of formula milk, as a measure to reduce contact between the mother and baby.
The case is reported at a time preliminary findings by a study done by Kemri-Welcome Trust reveals that antibody testing from several sources indicates that the prevalence of exposure to SARS-CoV-2 has significantly increased over time, especially in Nairobi and Mombasa counties.
"While efforts to conduct population-level SARS-CoV-2 antibody surveys are in progress, results from antenatal clinics can provide insights into the cumulative exposure of the Kenyan population to this virus and the spread of Covid-19 pandemic in the country," reads the study.
The study noted that SAR-CoV-2 antibody prevalence among blood donors has increased from 5.6 per cent to 13.3 per cent.
Counties of Mombasa and Nairobi had the highest antibody prevalence in the first collection, from 9.3 per cent to 17.1 per cent and 8.9 per cent to 21.5 per cent respectively.
Increased antibody prevalence was also noted in Kwale, Kilifi and in other counties of Nyanza, Rift Valley, Eastern and North Eastern.
Another study published in Science titled "Seroprevalence of anti-SARS-CoV-2 IgG antibodies in Kenya blood donors" shows that with a population of 53 million, at least 1.3 million Kenyans had been infected by the virus in June.
Seroprevalence is a way of identifying the number of people who have developed antibodies to a disease such as Covid-19 following an infection.
Systematic testing
The report released on November 11 notes that although it is hard to link the data directly to the population, the infection of Covid-19 in the country is widespread.
According to the study conducted between April and June, at least one in every 25 Kenyans in the age bracket of 15 and 64 had been exposed to the virus, a number that has been on the rise.
"Although it is difficult to extrapolate our data directly to the whole population, they do strongly suggest the current Polymerase Chain Reaction (PCR) test results suggest and indicate a need for more systematic testing," reads the report.