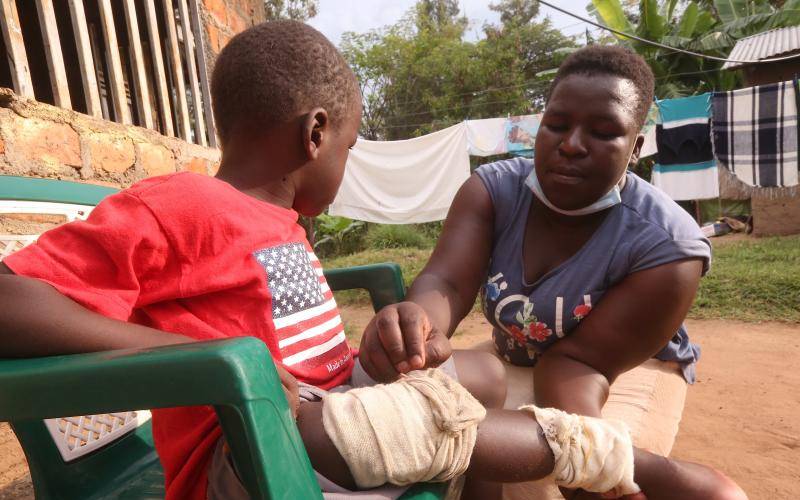 Seven-year-old George Ouma groans in pain as he tries to lift his heavily bandaged left leg off the ground. A futile effort, he shakes his head in despair as he gets into a coughing fit.
He suffered a fracture two weeks ago, in the hand and leg, and he is confined to his bed as he recovers. This is just one of the many episodes he has had in his young life.
"He has had over 30 fractures in his lifetime, with an equal number of operations in which surgeons have tried to fix his broken bones while avoiding inserting metals due to his tender age," says his mother Diana Akumu as she stares at her little boy whose frame is a lot more petite than of his peers.
Trouble started when he was just two. He was until then a healthy child albeit a bit dull and slow.
"One day he was sitting on a chair and stretched his leg to stand up. Just like that, he broke a hip bone," says Akumu.
She rushed him then to Kenyatta National Hospital (KNH) where they found out he had suffered a complete fracture. The bone had snapped into two. A few tests later, they found out that he had the Brittle Bone Disease, also called Osteogenesis Imperfecta (OI) which makes bones very weak, making them break at the slightest provocation.
And since then, George has spent large chunks of his time in the hospital.
Three months after the first fracture he suffered another fracture in the hand; again from stretching it.
"I feel so bad for him especially because of the accompanying pain. One time George broke his right hand just by sneezing."
Vincent Owaa, an orthopedic at Jaramogi Oginga Odinga Teaching and Referral Hospital (JOOTRH), says that OI is a rare genetic disease. It is incurable.
"The disorder disrupts the body's ability to form strong connective tissue and to grow new bone tissue." It occurs where there is lack of high-quality collagen, the protein which forms the framework for the bones.
Owaa explains that without collagen, the bones including teeth and cartilage can lack flexibility and strength, making them susceptible to fractures.
"It is costly to repair a fracture. A patient needs an average of Sh500,000 to restore a hip bone when fractured."
OI being a lifelong condition the affected experience a lot of physical pain due to the frequent fractures.
Deformities
"The bone weakness sometimes worsens and as the bones weaken, they become progressively crooked causing deformed limbs and difficulties in walking or activity," Owaa explains
For young George, his hands and legs have visible deformities. He cannot stand or do anything on his own.
"He needs someone round the clock to support him with everything. I live in constant anxiety at the thought of any slight move leading to a fracture in one of his bones. It breaks my heart seeing him in pain. It means he cannot play jump rope or make friends like boys of his age," says Akumu
Management
While there are drugs that strengthen the bones, nothing can completely cure them of the condition and those affected should adopt a healthy lifestyle to maintain bone health.
"It is important for patients to get adequate calcium intake and enough exercise to maintain a healthy body weight. Being overweight can worsen the condition."
However when it comes to treatment, surgeries are often required to put metal rods in the bones or spine to prevent fractures.
"Additionally, because it is a genetic disorder, when seeking treatment for children, a physician takes down the family history, and a physical examination of the patient," says Owaa.
X-rays allow the doctor to see current and past broken bones. They also make it easier to view defects in the bones.
Bernard Ndemo, an occupational therapist at Kisumu County Hospital, says that lab tests are used to analyse the structure of children's collagen.
"The management course for OI in children is determined by their age, overall health and medical history, "he says.
Ndemo explains that medics also determine the extent of the condition, type of condition and child tolerance for specific medications, procedures, or therapies.
The ultimate goal of any treatment is to prevent deformities and fractures and to allow the child to function as independently as possible.
"There may be use of wheelchairs braces, and other custom-made equipment which could maximise the individual's functional ability."
For Akumu and George, pain and anxiety are not the only thing that worries them. They also face stigma from neighbours who think that the condition is a curse.
"There is a lot of stigma, and many stay away from us," says Akumu.
But for now, she takes it a day at a time, hoping that medical interventions and constant prayers will cure her only child.
'It's difficult because as he is growing older he is seeing what other children are doing and he can't do those things. He can't attend school like his peers. But I have hope that one day he will get help and attend school like other children."