Home
/
Health & Science
Kagwe: Kemsa to sell PPEs, masks at current market price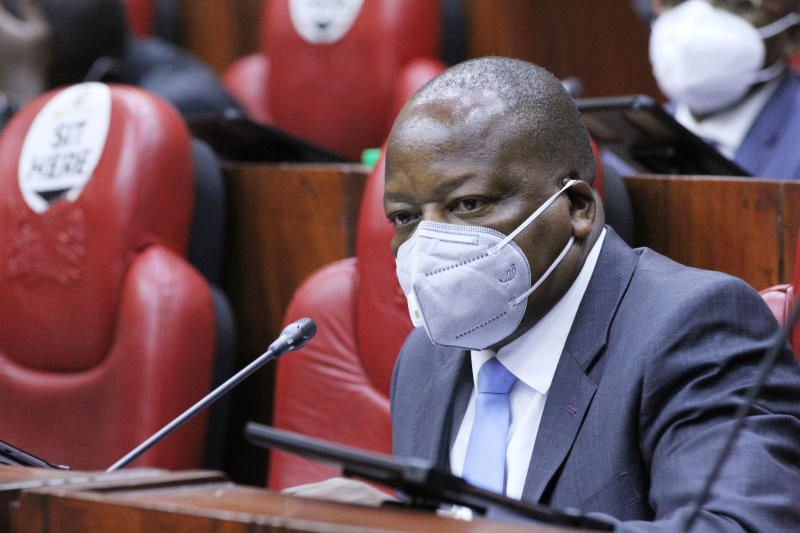 Health CS Mutahi Kagwe has informed a House committee that he had ordered Kenya Medical Supplies Authority to release PPEs and masks to counties at current market price potentially tossing the agency into losses.
This is after governors complained of inadequate funds to buy PPEs in the wake of the second peak of Covid-19 cases.
"I will be writing to Kemsa, following the discussion we had, to allow them to proceed and supply counties with PPEs," Kagwe said on Wednesday.
The CS who spoke when he appeared before the Senate Health Committee, said PPEs were lying idle at Kemsa warehouses but there were audit fears among the staff should they sell them at a cheaper price.
The drug agency procured the anti-Covid consignment at a higher price owing to high demand at the onset of the pandemic.
"There is fear within Kemsa…If they take the decision to dispose of these masks and PPEs to counties at less price than they bought them, that means eventually there will be audit queries that will then bring them here to answer the questions," he said.
Kagwe said Kemsa had no option other than selling the commodities at the current market price, pointing out that all the institutions including the government had felt the economic hit occasioned by the pandemic.
The Council of Governors chair Wycliffe Oparanya had said counties had no money to buy the commodities that are vital in the fight against Covid-19.
"As we speak, the PPEs are the major problem. We do not have them. We appeal to the national government to give us the money to buy PPEs or supply them to us because our medical staffs are in danger," said Oparanya.
CS Kagwe also acknowledged how Kenyans had started to adhere to Covid-19 measures saying they were now on a good path to saving lives.
With the increasing community infections of Covid-19, Kagwe urged the county governments to ensure PPEs are available even at the lowest clinics in the society.
"We should ensure availability of PPEs as the government," he said.
Related Topics