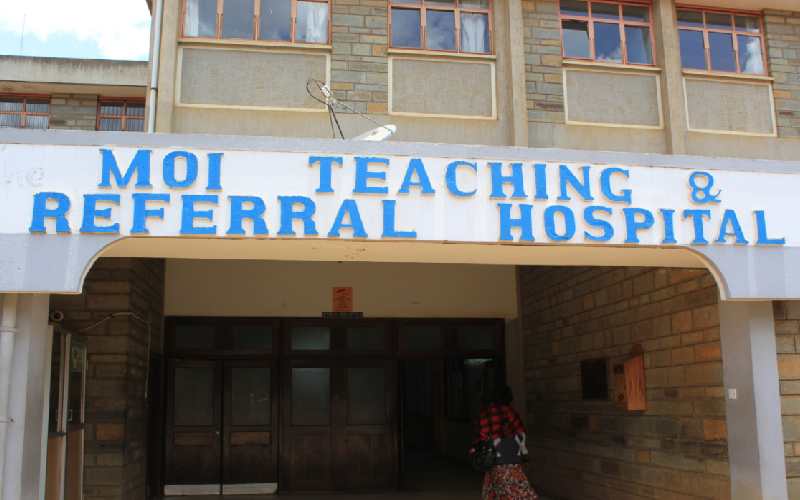 Just days after it emerged that the country's second-largest referral facility was overwhelmed, the hospital is facing yet another crisis.
Last week, the Moi Teaching and Referral Hospital (MTRH) said the Covid-19 isolation unit was full.
The MTRH CEO Wilson Aruasa yesterday put the number of health workers and other staffers who have contracted the disease at 20.
"They have made an eventful recovery except one who was very sick, and we, unfortunately, lost him," Aruasa said.
But doctors at the facility disputed the figure, saying the number of infected health workers and staffers was alarmingly high.
And others are overwhelmed by enormous workload resulting from shortage of health workers who are currently in isolation after getting infected, the sources, mainly experienced doctors who spoke exclusively to The Standard, said.
A doctor described the current situation at MTRH as dire and requiring urgent support in terms of deployment of additional health workers lest services grind to a halt.
"More than 30 per cent have contracted Covid-19. Others are still in isolation and some are under quarantine. We have cried to the ministry through our unions to salvage the situation, but no one seems to care," said the doctor.
At the same time, it emerged that counties in the region had abandoned isolation centres after the number of positive cases significantly reduced in what appeared to have been a flattened curve.
A Kenya National Union of Nurses official who asked not to be named said the county closed its isolation centres after numbers dropped last month.
"Kimalel, Elgeyo border and other isolation centres were closed. We are now relying on home-based care, but severe cases are referred to MTRH," said a nurse working at an isolation centre. [Stephen Rutto]
Related Topics