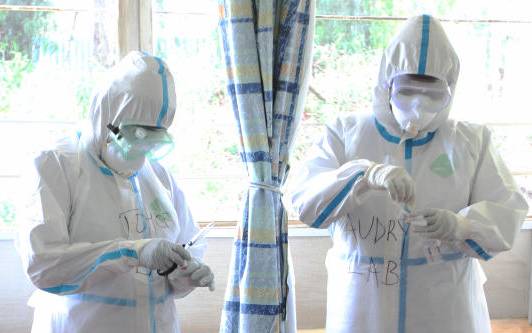 Health workers yesterday demanded at least Sh45,000 allowances each for their front line role in the fight against Covid-19.
The medics want a Sh30,000 risk allowance and Sh15,000 commuter allowance, as well as comprehensive medical insurance, saying they are more at risk of contracting the virus.
Through the Kenya Health Professionals Society (KHPS), representatives of five health workers associations also demanded their members be issued with Personal Protective Equipment immediately, warning of a strike should their demand fail to be addressed within seven days.
Speaking in Nairobi, leaders from National Nurses Association of Kenya, Kenya National Union of Nurses, Kenya National Clinical Officers, Kenya National Union of Medical Laboratory Officers and the Kenya National Union of Pharmaceutical Technologists, listed down the demands they want the government to address.
Among these demands is a harmonisation of risk allowances for all health workers. Currently, the allowances range between Sh3,000 and Sh20,000.
Accommodation
The medics also urged the government to ensure accommodation is provided in high-risk facilities like the isolation wards and quarantine centres.
"All these demands don't only apply to health workers in Nairobi but to all other regions across the country," Peterson Wachira, one of the representatives said.
Kenya National Union of Nurses General Secretary Seth Panyako raised concerns over how recruitment of health workers in government facilities was being carried out saying despite the corona situation, everything should be done according to the law.
Dubious means
"We know we have colleagues who have been employed through dubious means. Let the government know we will not sit back and watch as those responsible continue to discriminate against some workers," said Panyako.
The representatives also demanded that the Ministry of Health and county governments speed up the employment of the 6,000 more health workers to beef up an already strained workforce.
"Following President Uhuru Kenyatta's directive to the Ministry of Health to prepare a welfare package for all health workers, we expected to be consulted on some issues. We are open for discussions on this matter since we are the people who understand what our members are going through during this period," the leaders added.
They also expressed concern over police brutality against health workers and urged the Interior Ministry to ensure the teams are protected as they execute their duties.
Harrassed
"One of us was arrested in Mwingi while travelling from Voi to Meru for work. Despite presenting the essential service certificate, she was forcefully put on quarantine with her baby. Another one was put on quarantine while changing shifts. He had the essential service certificate but was still arrested and put in a cell for four days, and later in compulsory quarantine," George Gibore, one of the officials noted.
The officers, who have been on the frontline in the fight against the coronavirus, have on numerous occasions threatened to withdraw their services if the State does not guarantee their safety.
Related Topics