Home
/
Children's Health
Infant deaths and miscarriages- Fathers mourn too
Children's HealthBy Rosa Agutu | Mon,Oct 19 2020 00:00:00 UTC | 5 min read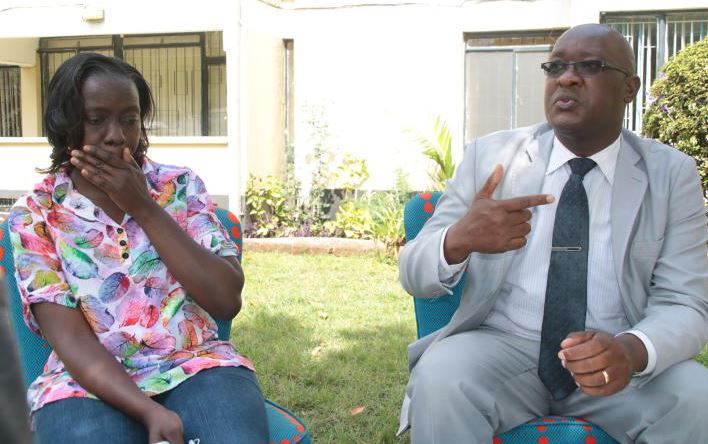 In 2016, Ouma Ragallo took all his savings and went to India with his wife Bibian for reconstructive surgery and In Vitro fertilisation after doctors said her fallopian tubes were blocked. Bibian had experienced two miscarriages.
"All was well after our daughter was born in December 2011, until we had the first miscarriage in 2013. My wife was critically ill after the miscarriage. It hurt, but we had hope. In 2015 she had her second miscarriage," Ouma says.
"My career was going so well. I built a house, but there was still some emptiness in me; I didn't have a son. So in 2016, I took all my savings and went to India for a month and a half."
Ouma's desperation to get a son was exacerbated by his family.
The procedure went well and Bibian conceived; twins. They lost one of them in the early stages of the pregnancy. Nonetheless, Ouma was elated. He was expecting a boy.
"We named him Mihaly; the boy I spent all my savings to have. It was a delicate pregnancy, so my wife was on bed rest throughout. One morning, before I left for work, I realised our bed was a pool of blood. She was 34 weeks. We rushed to the hospital and had a caesarian section. Mihaly was 2.1kgs, so they put him in an incubator. I called everyone and told them the son we had been waiting for was finally here," Ouma says amid struggle to compose himself.
"I bonded with my son as my wife was recuperating. I had to make the trips to the nursery to see him. He was my boy, my Mihaly, my first son. I could now walk with my head high. My wife was discharged three days later. That very night I got a call from the hospital. I was told my Mihaly was gone".
That was on April 4, 2017.
Ouma went to the hospital and the sight of his boy, lifeless in an incubator, pains him to date. "They didn't even cover his eyes. He was naked. I have never experienced that kind of pain. My Mihaly was gone," Ouma says.
"I was hurting. When people came to condole with us they focused on my wife. I understood because she carried the pregnancy. But I was also hurting. I gave him a decent burial as a way of getting closure, that he came, he didn't last, but we loved him," he says.
They buried the baby six days later. He had to hide his grief because he had to be strong for his wife, who was still healing. But after the burial, the grief took a toll on Ouma.
"Sometimes I could just park on the roadside and cry, then compose myself and go home. My wife found closure in God. She began to go to the Catholic Vincentian retreat in Thika. That really helped her. I was still angry, but after a while I allowed myself to mourn. I went to the Vincentian retreat. That also helped," Ouma says. "My daughter kept saying Mihaly would be back."
Approximately 10 to 15 per cent of pregnancies globally end in miscarriage, or before 28 weeks. Annually, 2.6 million babies are stillborn, leading to increased number of babies dying during pregnancy or childbirth.
Between January 2018 and July that year, at least 594 newborns out of 1,758 did not make it out of Kenyatta National Hospital's newborn unit alive. According to the World Health Organisation Kenya's stillbirth rate is at 22 per 1,000 births. Almost half of them happen during labour.
Eighteen months after the death of Mihaly, the couple got a baby boy. That was in October 2019. He, too, was named Mihaly. Last week, on October 11, they got a baby girl.
David Wanjala and his wife Elizabeth have their share of grief too. They are what many would describe as a true representation of the phrase 'opposites attract'. David is tall and very talkative, while his wife Elizabeth is petite and reserved.
One Saturday morning, in June 2019, Elizabeth noticed a stain of blood in her underwear.
"I had fears of losing the pregnancy since I had fibroids. I remember during my first pregnancy when I was four months, the doctor told me to pray hard because the chances of losing it were so high. I have never been that scared. Luckily, I gave birth and my son is four years now. So when I spotted blood for this second pregnancy, deep down we knew we were losing the baby. But we hoped for the best," says Elizabeth.
The blood was followed by severe cramps. When the couple visited their doctor, the fear was confirmed; there was no heartbeat.
"It was hard for my wife because she had to carry a dead foetus for three days while we tried to find a place to get her cleaned. I was in so much pain that my heart felt numb," says David, eyes welling with tears.
They finally got to the hospital. But the procedure added salt to David's wound. "No baby, no first picture, no painting. It's like he was erased. The only memory I have is of him in a bucket," says David. Going home from hospital without a baby broke their hearts.
The grieving process was hard for the couple. They mourned separately and did not talk about their feelings. Elizabeth started counseling after a few weeks.
But for David, despite wearing a brave face, he was a walking wreck. "I had to be the pillar, but it was killing me inside. I cried in the bathroom. I cried while walking on the streets. It felt like a hole had been dug in my heart. In such a situation, people don't think men feel the pain because we did not carry the pregnancy, but we do," David says.
Their intimacy was also affected. He was scared of getting her pregnant only to go through the painful cycle again.
David talks about the mishandling of women during pregnancy, while giving birth, and after having the baby. "I am not ashamed to be a champion for women. Hospitals need to have therapists to guide women during and after pregnancies," he says.
David thought of celebrating his son with a cake during his birthday, which was supposed to be in January. But Elizabeth is not ready for such.
Diana Jepkosgei, a psychologist at Still A Mum, an organisation where parents who have lost children get counseling, says during grief, men step up to protect the family and forget about themselves.
"Most men deal with grief by being busy. They will be in charge of the funeral arrangements, hosting guests, and all the preparations. They keep postponing their grief until they can't take it anymore," Ms Jepkosgei says.
Related Topics