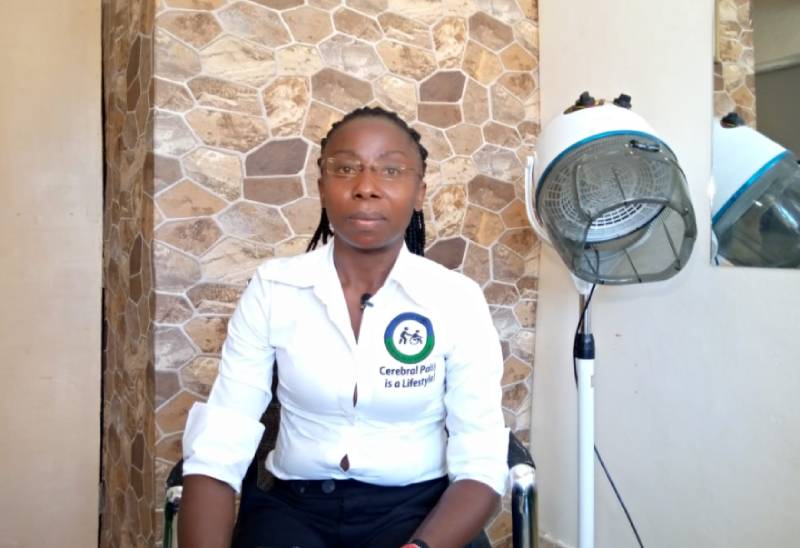 When you walk around most estates in the country, you cannot miss a good number of hair salons. Some adjacent to each other while others opposite each other. This goes to show how hair salons have become a necessity. However, do these salons cater for all customers, especially customers with special needs?
When you walk in Donholm Estate phase 8, in Nairobi, among so many salons one stands out, the BM Cerebral palsy salon. The salon was started in March 2020 after the first Covid-19 case was reported in the country to provide a lively hood for caregivers of children with cerebral palsy by giving them employment as well as creating a safe space for persons living with cerebral palsy to make their hair.
Christine Arunga Mutola founded the salon, supported by the Barrack Museka Foundation, a foundation she started to pay homage to her cerebral palsy son who died in 2016.
"This salon, is not just for people living with cerebral palsy, it's for everyone. So every time someone makes their hair here they are supporting someone with CP to have access to diapers, medication, therapy sessions and even put food on their table."
Christine says that taking care of her son for 8 years made her understand the challenges other families face. Just like another parent, Christine thought she was on that journey alone until she started interacting with other parents and people living with cerebral palsy.
"It was very challenging but after seeing other parents coping and seeing adults living with cerebral palsy living their lives I knew my son was going to be okay as an adult."
However, Christine sons did not make it to adulthood. After 8 years of living cerebral palsy, he passed away.
"I was devastated when he died, I cried a lot and asked God why he took my son and I hadn't complained of taking care of him, I wasn't tired of taking care of him. I kept telling myself that I would carry him and change him even if he were 40, he was my baby."
With support from her husband and her three younger daughters who are now 7,6 and 5 years old, Christine soldiered on. She launched the foundation two years after her son's death then the salon this year.
The salon has created a safe space for people living with cerebral palsy.
Sarah Moraa, a parent of a 10-year-old daughter living with cerebral palsy says that the salon attendants are patient with her daughter because most of them have children with cerebral palsy or have been thoroughly trained to take care of them.
"It has not been an easy journey, people stare and others make inappropriate comments but over the years I have chosen to ignore. The salon is amazing. I always know my daughter is in great hands when she's here."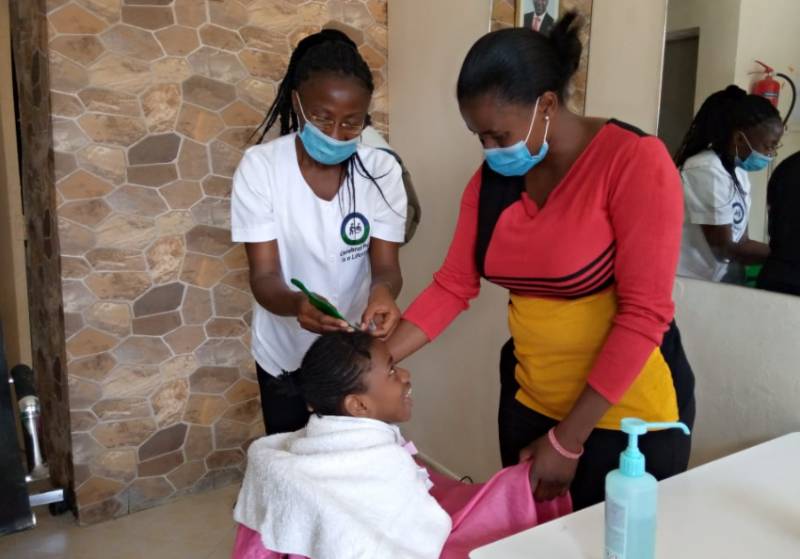 Sarah's daughter was diagnosed with cerebral palsy 5 months after her birth, and that's when she realized that the complications began following prolonged labour. Sarah says that the biggest challenge is money, since her daughter spends Sh8,000 on medication per month.
"A lot of people told me that my daughter was cursed, that I should seek healing from witch doctors, but I decided to ignore them and focus on what the doctor was telling me."
When a child is born with special needs, in most cases the father would abandon the family, blaming the woman for having a deformed bloodline.
A 2016 study by the Orion Foundation, indicates that 91 per cent of caregivers for people living with the condition in Kenya are mothers, and most have to quit their jobs in order to provide that care. 44 per cent of marriages are negatively affected if their child is diagnosed with cerebral palsy and in seven per cent of those cases, the father walks out.
However, it is not the case for Elijah Mokua Nyaigoti whose 13-year-old daughter was diagnosed with cerebral palsy after developing a heart condition.
"The heart condition got better after the surgery. But when she was four years old everything changed. It was 1st January 2012 we came back home after spending the day at the park and that was when she started convulsing and lost consciousness. She was in a coma for 4 months before regaining consciousness and that's when we were told she's had severe brain damage."
Elijah says that his daughter is his best friend, even with the severe condition she always notices when he's home.
"She has level 5 cerebral palsy, which means she can't move or do anything. If you don't turn her she can stay in the same position the whole day. But she always lights up when I get home, she's my only daughter, she's my world."
Elijah says that there's stigma and sensitization is important. He also talked about the financial constraints since the daughter needs expensive drugs, a special diet and the use of diapers.
According to experts, cerebral palsy is a type of brain damage that occurs before a child reaches the age of five; during pregnancy, at birth and after birth. The damage may be caused by Infections, such as meningitis or encephalitis, inadequate blood flow to the brain, blood clotting problems, a heart condition that was present at delivery, abnormal blood vessels or sickle cell disease.
Depending on the severity of the condition a person living with cerebral palsy can live between 30-70 years. The more severe the condition, the more prone the child is to premature death.
Experts say that as of now there's no cure but a person living with cerebral palsy can have an impairment but are considered healthy.
The Centre for Disease Control estimates that 3 in 100 children in Kenya lives with cerebral palsy. Globally people having cerebral palsy are estimated to be 17 million.