Home
/
Health & Science
Patients forced to leave as medics strike at Kabarnet Hospital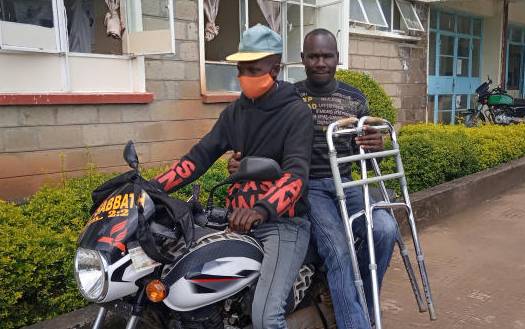 Services at Kabarnet Hospital in Baringo County were on Thursday paralysed following a strike by medics.
The doctors, nurses, clinical officers, nutritionists and laboratory technicians kept off their work stations after the expiry of a 14 days' strike notice on Sunday.
The medics, under Kenya Health Professionals Society, accused the county government of failure to address their safety and welfare in the discharge of duty. They also want the county to address promotions, confirmation, re-designation, shortage of health workers and supply of Personal Protective Equipment.
The Kenya Union of Clinical Officers county secretary Philip Yator said efforts to have the grievances addressed were futile.
Mr Yator said the county did not honour a letter by the Council of Governors (CoG) directing it to dialogue with union representatives to avert the strike.
The healthcare workers on Wednesday took to the street demanding to be addressed by the area Governor Stanley Kiptis. They were later addressed by the County Minister for Health Mary Panga and Gideon Toromo, the chief officer medical services.
With the strike patients were left unattended forcing some to leave the hospital.
David Chelimo, one of the patients said medics had asked them to leave the hospital. He said the medics made true their threats and left them unattended.
"We have been abandoned, the medics asked us to leave the hospital as there will no services offered. I have decided to go home," he said.
Take a quick survey and help us improve our website
Take a survey
Chelimo, in pain, called on the county to address the issue as locals are suffering.
Another patient Paul Chelanga, a diabetic patient said it was so sad to have him left unattended at the facility despite his condition.
Chelanga said the hospital is the worst hospital for the one to be in.
He said it was so sad to have workers go without a salary.
Kenya National Union of Teachers Baringo Branch Joshua Tarus called on the county government to dialogue with the healthcare workers and have the situation addressed.
He called on the senators to end the current revenue sharing stalemate and release the money to counties.
"People are desperate, they are going home sick and people are silent, let's take this issue seriously. Health workers are also human and their issues should be addressed," he said.
Panga and Toromo's efforts to plead with the healthcare workers to return to work fell on deaf ears.
The CEC said they cannot get the funds at the moment.
Toromo on his part said they will deal with the issue of protective equipment supplies.
"We are fulfilling the re-designation and confirmation is being addressed. Confirmation letters are being addressed and letters will be sent. For promotions we waiting for funds from the national government, we might start with a few as we go," she said.
Governor Stanley Kiptis said the County is engaging the healthcare workers in talks to have the matter sorted once and for all.
Related Topics