Home
/
Health & Science
Kenya reports 492 new coronavirus cases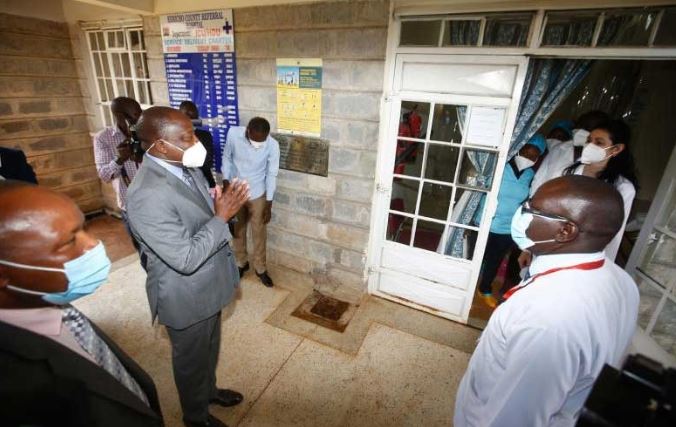 Kenya on Monday recorded 492 additional cases of Covid-19 as well as three deaths in the past 24 hours, the Health Ministry announced as it decried continued stigmatisation of infected people.
There were also 534 recoveries during the period, of which 478 were recuperating under home-based care.
The new positive cases, from 4,603 samples, pushes the national case load to 26,928.
Two of the new fatalities were recorded in Kiambu County while the other was some 152 km away in Nakuru. They were all male - aged between 52 and 69 years - and had underlying conditions.
The reported death toll since now stands at 423, representing a 1.6 per cent case fatality rate.
According to the Health Ministry's data, the new confirmed infections were spread between seven nationalities (Burundian 6, Chinese 2, Ethiopian 1, Indian 2, Kenyan 478, Rwandese 1 and Somali 2).
On the gender distribution, Health Cabinet Secretary Mutahi Kagwe said 331 were male while 161 were female.
"The youngest confirmed case was 11 months and the oldest 83-years-old," the CS said.
Kagwe was speaking at Ainamoi Health Isolation Center, Kericho where the National Emergency Response Committee On Coronavirus had toured to assess the county's preparedness in dealing with the virus.
In recent days, the team has visited Kisii, Kakamega and Kisumu counties.
The CS described the Kericho's preparedness as "impressive" as its hospitals and critical care equipment were in good shape.
"When it comes to Covid-19 and your approach to it, I must let Kenyans know that you are an unsung hero. At 116, your number of infections is relatively low as compared to many other counties but you nonetheless put in place numerous initiatives that are worth commending," Kagwe told Kericho Governor Paul Chepkwony.
Kagwe lauded the county's initiative to partner with the private sector to contain the pandemic.
The cabinet secretary denounced the increasing cases of stigmatisation of those who tested positive to the virus in the county and beyond.
He implored people to learn about the virus and noted that a bulk of the cases were reported in asymptomatic people and that those who showed the symptoms recovered.
"As much as Covid-19 is a highly infectious disease, should one contract the disease, it's not itself a death sentence, and like any other disease, it will be managed by our health care workers to the extent possible," Kagwe said.
He went on, "When people recover, they no longer shed the virus and therefore there is absolutely no reason to stigmatise anyone who for whatever reasons, contracted the disease."
Kagwe said there were cases of private hospitals concealing positive test results, including from the patients, so that they can avoid stigma. He cautioned that it was mandatory that all positive Covid-19 cases be reported to the Ministry of Health.
"The patients proceed to go home where they interact with their loved ones freely, and they unknowingly put them at risk. Why would a medic or medical facility do that and if they had no intention of disclosing the diagnosis, why test in the first place if not just to charge a patient?" he implored.
Related Topics