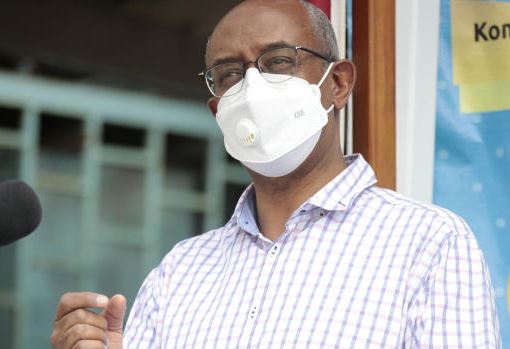 Covid-19 deaths are on the rise because most victims have underlying health conditions, the government says.
The number of Covid-19 fatalities is now 278. Of late, the country has been reporting an increase in the number of deaths, the highest in a day being 12.
Yesterday, Health Chief Administrative Secretary Rashid Aman (pictured) reported that four more patients had died from the disease, with 375 new positive cases.
Half of the deaths
Aman said more than 50 per cent of deaths are associated with underlying medical conditions which include diabetes, hypertension and HIV.
"I do not think the deaths are due to improper management. I think we have prepared our facilities well so the deaths cannot be attributed to substandard care," said Aman.
Dr Aman said even with the recent increase in fatalities, the country's case fatality ration of between 1.1 and 1.7 per cent is still lower than other countries in the developed world.
"In this regard, our case fatality ration is not that high," he said.
Aman said when the country had 250 deaths, 129 victims had underlying medical conditions that compromised their immune systems.
Hypertension and diabetes accounted for 32 per cent of the deaths while diabetes alone had 15 per cent.
He explained that if one has a non-communicable disease like hypertension and diabetes, one's immune system is already compromised and as such, susceptible to severe disease and death, in case new infection attacks.
"It is because people with these conditions are always on medication which target the same receptor cells targeted by the coronavirus and as such, the cells are overexposed. That is the hypothesis but it is yet to be thoroughly explored," he said.
Director Public Health Francis Kuria said with the increase in cases, there is bound to be a similar rise in deaths against the case fatality rate. Kenya now has 7,574 recoveries.