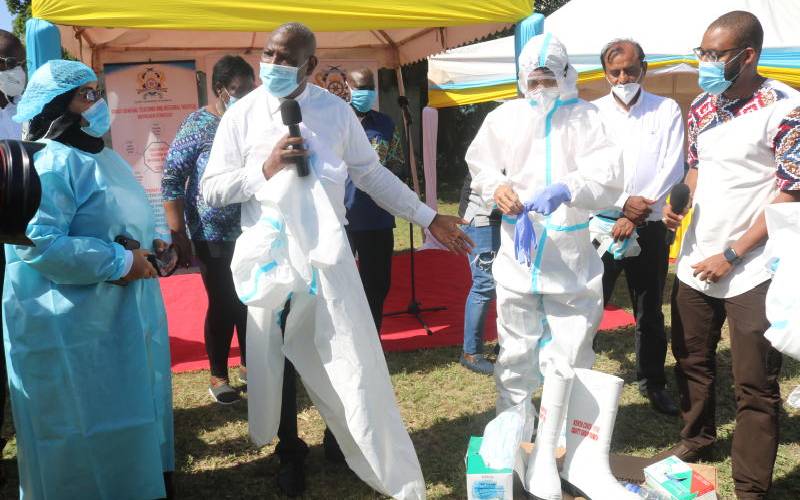 When he tested positive for Covid-19 a couple of weeks ago, Hussein Abdullah (not his real name) was worried about stigmatisation in Mombasa. He also feared being taken to a quarantine facility with his family and preferred to self-isolate at home. Luckily for him, Mombasa had started rolling out home based care for asymptomatic patients, which he readily opted for. A medical team was sent to Abdullah's house in Old Town, to assess the situation before he could be allowed to isolate at home. One of the conditions for consideration was that a patient should be occupying a house with indoor facilities like a toilet. Although Hussein's house was declared fit for home based care, he had to live in a separate room from his wife and children because they had tested negative for coronavirus.
SEE ALSO: High-end clubs lose bid to reopen doors
"We have ensured no interaction with my family members because I live in a self-contained room where I cannot interact with my wife and three children who are negative," he told The Standard. "We communicate through the door and the family WhatsApp group," he added. If he needs supplies, his wife or children drop them at his door step. The utensils Hussein uses are collected and sterilised, separately after every meal. Today, he is on the road to recovery and in a few days he will be freed from confinement if he tests negative for the third successive time, said Mombasa County Chief Health Officer Khadija Shikely. She explained that only asymptomatic patients without underlying medical conditions are allowed to opt for the home based care.
SEE ALSO: Pandemic: Why some people don't play by the rules
The patients are monitored daily by medical teams. "The clinical officer will call those who are self-isolating to check if they have high temperature, cough, tiredness, and difficulty in breathing among other coronavirus symptoms. But for the 14 days incubation period, you must stay indoors. You cannot receive guests until you recover from the disease," Dr Shikely explained. The doctor disclosed that another family in Old Town had a Covid-19 patient self-isolating at home. "The family requested for self-isolation and we had to send doctors to ascertain that they met the requirements, including separate room, sanitation facility and a helper. We are happy the patient is following the guidelines not to infect his family," she added. Shikely said the patient was taking medication, eating well and had a doctor on call. "The doctor inquires if he has checked his temperature, which he monitors daily. In case of any slight changes, the doctor is dispatched to the home," she said. Following the rise in Covid-19 cases, home based care became inevitable as the county began to experience pressure on isolation facilities besides the high cost of taking care of institutionalised patients. The move, according to Shikely, is to optimise scarce hospital resources and personnel, and balance access to Intensive Care Unit beds for critically ill patients. On Thursday, Mombasa announced that 335 patients in home based care had recovered.
SEE ALSO: Coast hotels resume operation, use 'digital order' to beat Covid-19
Mombasa deputy governor William Kingi said medics were rolling out the programme in the grassroots. "There is need to activate and capacity-build at the community level to ensure home based care succeeds," he said.