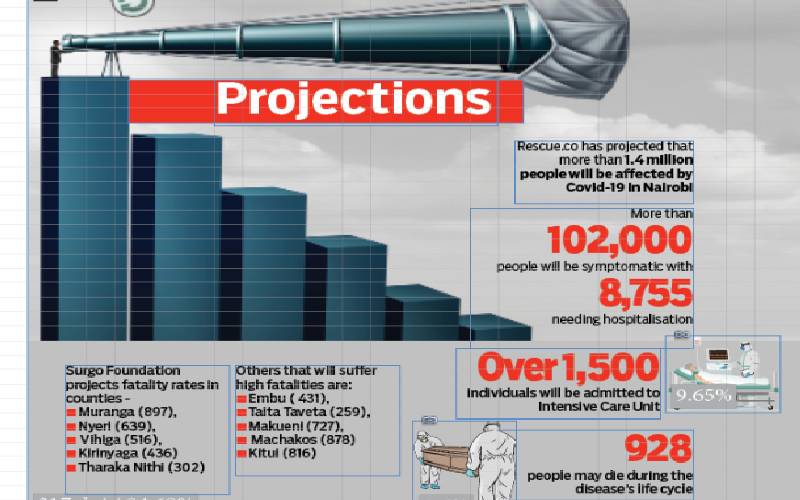 The novel coronavirus continues to spread around the world with the severity and speed seldom witnessed in previous outbreaks. Now, scientists and governments worldwide are forced to keep revising and adjusting their projections as the virus continues to fester. And as countries around the world race to prevent and mitigate the growing threat of Covid-19, data on populations, their health characteristics, livelihoods, location and availability of resources may prove to be invaluable for response efforts to a disease with significant unknowns. Locally, a network of Kenyan emergency health responders, Rescue.co has projected that more than 1.4 million people will be affected by the novel coronavirus in Nairobi. The projections also say that more than 102,000 people will be symptomatic with 8,755 of them needing hospitalisation over the next year.
SEE ALSO: Anxiety over shortage of ICU beds as virus cases hit 16,268
The projections also indicate that just over 1,500 individuals will spend time in Intensive Care Units while 928 people may eventually die during the disease's life cycle. "There is now substantive peer-reviewed evidence as to the localised factors in sub-Saharan Africa which will impact the severity and conditions of Covid-19 in countries like Kenya," the organisation says. "Our initial projection did not take into account demographics within Kenya. It has since become clear that age is a critical factor in determining mortality outcomes during CV-19. Kenya's young population needs factoring into our model."
Weak position
Nairobi, as an urban area, is in a weak position to stop the spread of the virus, the projection says.
SEE ALSO: Medics overwhelmed in Covid-19 fight, cite understaffing
"Population density is high and economic necessity means that social distancing will become increasingly challenging over the course of the next few weeks," it reads. "In light of this, our model suggests that community transmission will rapidly increase and that a large number of Nairobi County residents will be infected from now until November 2020." Despite these fears though, Nairobi, unlike many cities in Europe and the Americas has one thing going for it that might cushion the impact of the virus somewhat - a youthful population, whose robust immune systems is better equipped to fight the pandemic. "Nevertheless Nairobi County hospitals should be prepared for a significant increase in hospitalisations over the coming weeks. At its peak there may be as many as 3,358 people hospitalised across the city as a result of the virus," the study reads. To counter the pressure on health facilities that might follow a surge in hospitalisation numbers, modellers say more than 400 ICU beds ought to be made available across the city. Currently, Nairobi has a total of 278 ICU beds, a number that will fall far short of what is required should these projections pan out.
SEE ALSO: Policy, police and State: Why our youth keep disappearing and what needs to be done
If not, the fatality numbers of 928 city residents to die from the disease might increase. The modelling used the total population size of Nairobi, 4,397,037 as a sample basis and also cautions on the impact that the reopening of Kenya's international borders might mean for infection rates. "Whilst tourism figures are expected to be significantly lower than the 119,670 who travelled to the country in January, we can project based on other tourism markets which have reopened in recent weeks that tourism arrivals will be at 5 per cent of pre-Covid-19 levels: 5,983 tourists arriving into Nairobi each month. Based on randomised studies of infection rates in several of the countries who supply the majority of tourists to Kenya, we can assume that 15 per cent of new arrivals will carry the virus. This equates to 897 new infections arriving each month from overseas," the study reads. It also estimates that 40 infected individuals will travel into Nairobi each day from local and international destinations as a result of lifting the lockdown measures. There is a fear though of what might happen if similar transmission numbers are witnessed in counties that have far fewer resources than Nairobi. Another set of modelling by the Surgo Foundation, supported in part by the UKAid Department for International Development's Frontiers Technologies Hub, has mapped out the vulnerability of counties should they experience outbreaks similar to what is being experienced in Nairobi. Surgo Foundation's Covid Community Vulnerability Index is made up of seven themes. Age, epidemiological factors, fragility, strength of healthcare systems, population density, socioeconomic factors and access to transportation and housing. On these key metrics, the mapping by the foundation shows that the top five counties that may experience the highest fatality rates are Murang'a, Nyeri, Vihiga, Kirinyaga and Tharaka Nithi. These counties are projected, for the duration of the outbreak, to lose 897, 639, 516, 436, and 302 people respectively. The rest of the top 10 counties projected to suffer high losses are Embu, Taita Taveta, Makueni, Machakos and Kitui, projected to lose 431, 259, 727, 878 and 816 lives respectively. Despite these numbers though, the study also says that of all the countries in East Africa, Kenya remains the least vulnerable because more stringent measures have been implemented in high density, high-risk areas. The foundation, however, has a few caveats. "Covid-19 is a new disease and most of what is known about it is based on data from middle and high-income countries. Much remains unknown about how the pandemic will unfold in Africa," its authors say. Surgo Foundation works in areas such as coronavirus, maternal health, tuberculosis and HIV. But just like the Ministry of Health's own model, all other models might indicate different figures but their conclusion remains the same. That the positive numbers are increasing. And that the solution lies in a simple remedy. "Employing interventions is predicted to bring down the number of people infected by reducing interactions between people in a day," MoH says.