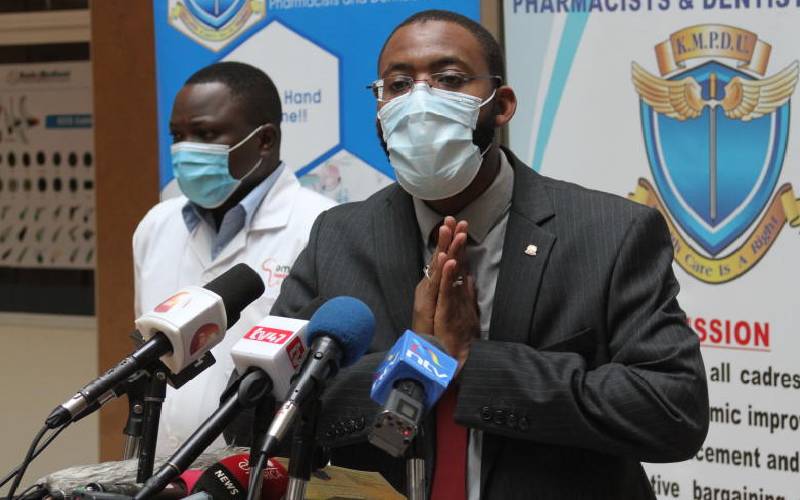 The Kenya Medical Practitioners Pharmacists and Dentists Union (KMPDU) on July 11 called on the Ministry of Health to step up its efforts in offering Personal Protective Equipment (PPES) to help medics. Addressing the media a day after the death of Dr Doreen Adisa Lugaliki who succumbed to Covid-19 on Friday, the union also called for compensation for health workers who contract the disease to pay their hospital bills while on treatment. KMPDU Acting Secretary Dr Chibanzi Mwachonda said the demise of Dr Lugaliki has dampened the medics morale and urged the government to support health workers who risk their lives to save Kenyans who contract Covid-19. "Doctors are worried and the death of their colleague has injured their morale hence the need for support," he said.
SEE ALSO: Nairobi medics issue seven-day strike notice as CAS calls for calm
Mwachonda challenged the ministry to ensure medics welfare are well taken care of during the pandemic to boost their morale. "Medics are traumatised even as they deal with the pandemic, hence the need for utmost support for health workers," he added. He said the health workers are ready to serve the nation in flattening the Covid-19 curve and called on all Kenyans to join hand in the war. "It is our duty to take care of Kenyans because this is our country and these are our relatives, but we need support," he said. He called on Kenyans to take necessary precautions, adding that the Covid-19 is real.
SEE ALSO: Doctors demand extensive health cover amid Covid-19 fears
Lugaliki is suspected to have contracted the virus in the line of duty. Her workstation had had two doctors with the virus, making her a primary contact. She had tested negative during that contact-tracing, but later developed difficulty in breathing that made her seek medical attention. She is said to have had respiratory distress by the time she was checking in to the hospital. Doctors, however, suspect that the virus, whose effects are still being investigated by researchers, might have an effect on the pancreas, making one develop diabetes-like complications that ultimately complicate treatment efforts. Her family, colleagues and friends were heartbroken. She was eulogised as a dedicated and hardworking obstetrician and gynaecologist in Nairobi who was literally on her feet attending to expectant mothers up until her untimely death.