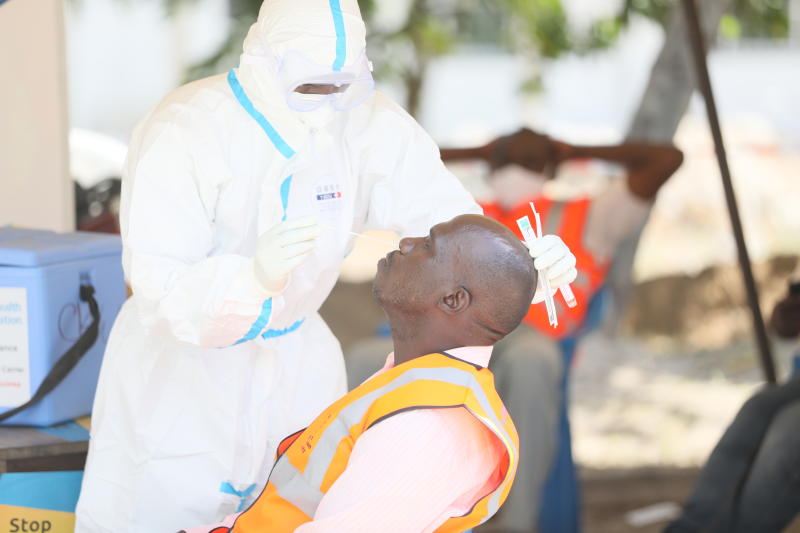 New research by British scientists indicates that doctors might be missing signs of serious and potentially fatal brain disorders triggered by Covid-19 in recovering patients who initially presented mild symptoms.
Neurologists on Wednesday published details of more than 40 UK Covid-19 patients whose complications ranged from brain inflammation and delirium to nerve damage and stroke. In some cases, the neurological problem was the patient's first and main symptom.
The cases, published in the journal Brain and titled 'The emerging spectrum of COVID-19 neurology', showed a rise in a life-threatening condition called Acute Disseminated Encephalomyelitis (Adem), as the first wave of infections swept through Britain.
At UCL's Institute of Neurology, Adem cases rose from one a month before the pandemic to two or three per week in April and May. One woman, who was 59, died of the complication.
According to the study, up to a dozen patients under observation had inflammation of the central nervous system, 10 had brain disease with delirium or psychosis, eight had strokes and a further eight had peripheral nerve problems, mostly diagnosed as Guillain-Barré syndrome, an immune reaction that attacks the nerves and causes paralysis. It is fatal in five per cent of cases.
"We're seeing things in the way Covid-19 affects the brain that we haven't seen before with other viruses," Michael Zandi, a senior author on the study and a consultant at the institute and University College London Hospital's NHS foundation trust, told UK news website, The Guardian.
"What we've seen with some of these Adem patients, and in other patients, is you can have severe neurology, you can be quite sick, but actually have trivial lung disease," Zandi said.
"Biologically, Adem has some similarities with multiple sclerosis, but it is more severe and usually happens as a one-off. Some patients are left with long-term disability; others can make a good recovery."
Long-term effects
The cases add to concerns over the long-term health effects of Covid-19, which have left some patients breathless and fatigued long after they have cleared the virus, and others with numbness, weakness and memory problems.
One coronavirus patient described in the study as a 55-year-old woman with no history of psychiatric illness, began to behave oddly the day after she was discharged from hospital.
She repeatedly put her coat on and took it off again and began to hallucinate, reporting that she saw monkeys and lions in her house. She was readmitted to hospital and gradually improved on anti-psychotic medication.
Another woman, aged 47, also part of the study, was admitted to hospital with a headache and numbness in her right hand a week after a cough and fever came on. She later became drowsy and unresponsive and required an emergency operation to remove part of her skull to relieve pressure on her swollen brain.
"We want clinicians around the world to be alert to these complications of coronavirus," the study reads.
A recommendation from the findings is that healthcare workers with patients who have cognitive symptoms, memory problems, fatigue, numbness or weakness, ought to discuss the cases with neurologists.
"The message is not to put that all down to the recovery, and the psychological aspects of recovery. The brain does appear to be involved in this illness," reads the study.
The full range of brain disorders caused by Covid-19 may not have been picked up yet, because many patients in hospitals are too sick to examine in brain scanners or with other procedures.
Subtle brain damage
"What we really need now is better research to look at what's really going on in the brain," Zandi told The Guardian.
One concern is that the virus could leave a minority of the population with subtle brain damage that only becomes apparent in years to come. This may have happened in the wake of the 1918 flu pandemic, when up to a million people appeared to develop brain disease.
"It's a concern if some hidden epidemic could occur after Covid-19 where you're going to see delayed effects on the brain, because there could be subtle effects on the brain and slowly things happen over the coming years, but it's far too early for us to judge now," Zandi said.
On the day the study was made public, CNN anchor Richard Quest who contracted Covid-19 and recovered, wrote an article alluding to the effects that Covid-19 have on his neurological system.
"I am also discovering new areas of damage. I have now become incredibly clumsy. I was never the most lissome person, no one ever called me graceful, but my clumsiness is off the chart," he wrote on the CNN website.
Mild confusion
"If I reach for a glass, or take something out of a cupboard, I will knock it, or drop it on the floor. I have tripped over the curb and gone flying. I fall over furniture. It is as if that part of my brain, which subconsciously adjusts hand and movement to obstacles it sees, isn't working."
He added that at times he got a sense of mild confusion. "The micro delay in a thought, the hesitation with a word. Nobody would notice but me," he said. "The doctors try to reassure me, saying, this will wear off, but they can't tell me when."
The patients in the study included 24 males and 19 females with ages ranging from 16 to 85 years. Twenty-three of the patients (53 per cent) were non-white. On the basis of a positive nasal-pharyngeal throat SARS-CoV-2 PCR test, 29 were defined as definite Covid-19, eight were probable and six were possible for this association.
The severity of the Covid-19 symptoms varied from mild to critical.
However, David Strain, a senior clinical lecturer at the University of Exeter Medical School, said only a small number of patients appeared to experience serious neurological complications and that more work was needed to understand their prevalence.
"This is very important as we start to prepare post-Covid-19 rehabilitation programmes," he told The Guardian.
"We've already seen that some people with Covid-19 may need a long rehabilitation period, both physical rehabilitation such as exercise, and brain rehabilitation. We need to understand more about the impact of this infection on the brain."
Locally, some 8,528 cases have been confirmed to be positive.
Of these, Kenya has recorded 2,593 recoveries that have come on the back of 169 deaths.
Related Topics