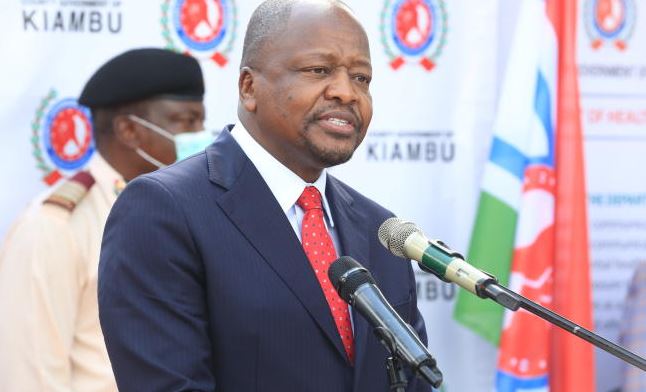 Health Cabinet Secretary Mutahi Kagwe (
pictured
) on Thursday, June 4 announced that the designated national Covid-19 hospitals are overflowing with both ailing and asymptomatic patients. The government is now considering sending some Covid-19 patients home since many of them — 80 per cent according to the CS — are asymptomatic. "A lot of people in isolation facilities may be released to be taken care of in their homes. The Ministry has completed the process of home-based care protocols. I appeal to Kenyans, that when we release the protocols and we see people coming home, there is no need for stigmatisation," he pleaded.
SEE ALSO: Owalo cushions Kenya Morans and Lionesses
Kagwe said that Kenyatta National Hospital (KNH) and Mbagathi Hospital unit under KNH, were already full to capacity, meaning, no more patients, even those who may need care, will get a bed at any of these facilities. Kenyatta University Teaching Referral and Research Hospital, a 300-bed facility, had only three beds left, as of Thursday. So far Kenya has recorded 2,862 coronavirus cases with 85 fatalities. The country is staring at 1,928 active cases, seven of them are in critical condition. With the expected surge in numbers, the ministry highlighted the following procedures for home-based care for Covid-19 patients.
Procedures for home-based care
SEE ALSO: Afghan assembly approves release of 400 'hard-core' Taliban prisoners
The patient should be placed in a well-ventilated single room Limit the movement of the patient in the house and minimise the use of shared spaces like kitchen and bathroom with the other occupants in that house. Limit the number of caregivers, the Ministry advises that one person with good health should be assigned to take care of the patient. Visitors should not be allowed in the isolation room, except the caregiver, until the patient has completely recovered from Covid-19. Clean your hands after any type of contact with patients or their immediate environment. This should also be done before and after preparing food, before eating, after using the toilet and whenever hands look dirty.
SEE ALSO: Closing schools indefinitely is a blind way of fighting virus
After washing hands with soap and water, the Ministry advises the use of disposable paper towels when drying hands. Facemasks should be provided to the patient who should wear it as much as possible. Individuals who cannot tolerate a facemask should use rigorous respiratory hygiene; that is, the mouth and nose should be covered with a disposable paper tissue when coughing or sneezing. Caregivers should wear a facemask that covers their mouth and nose when in the same room as the patient. Masks should not be touched or handled during use. Avoid direct contact with body fluids, particularly oral or respiratory secretions, and stool. Do not reuse single-use masks or gloves. Use dedicated linen and utensils for the patient; these items should be cleaned with soap and water and disinfected with 0.5 per cent Chlorine bleach after use and maybe re-used instead of being discarded. Daily cleaning up and disinfecting of surfaces that are frequently touched in the room where the patient is being cared for. Clean and disinfect bathroom and toilet surfaces at least twice daily. Clean the patient's clothes, bed linen, and towels using regular laundry soap and water or machine wash at 60–90 °C with common household detergents. Isolation should be maintained for at least ten days or until advised by a doctor in the event that a patient continues to have symptoms beyond ten days.