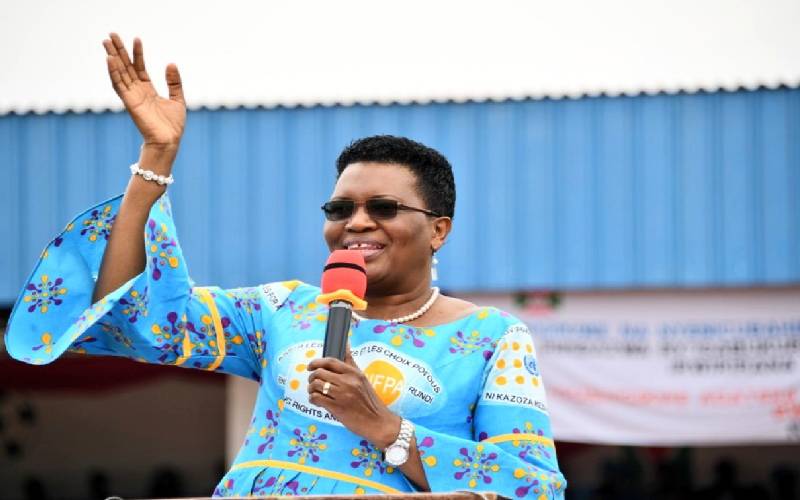 Burundi's First Lady Denise Nkurunzinza is receiving treatment at the Nairobi's Aga Khan Hospital after she reportedly contracted Covid-19.
According to sources, Mrs Nkurunzinza (pictured) was airlifted from Bujumbura to Nairobi for urgent medical attention on Thursday in an AMREF plane.
"The plane took off from Bujumbura Airport on Thursday night with airport lights turned off as staff and security were asked to clear before her arrival," the source indicated.
The First Lady was accompanied by three guards who have also been admitted in the same facility after testing positive for coronavirus.
Outgoing President Pierre Nkurunziza did not accompany the First Lady to Kenya.
"Her husband, Pierre Nkurunziza was not in the flight, but was accompanied by three bodyguards who have also tested positive."
Burundi has so far recorded 42 cases of Coronavirus and one death.
President Nkurunzinza has dismissed the virus just like his Tanzanian counterpart John Magufuli telling Burundians to live their normal lives.
The country conducted elections in May 2020 amid the virus as Nkurunzinza's party CNDD-FDD candidate General Evariste Ndayishimiye won.
As most countries were cancelling national league matches to stop public gatherings, Burundi's league was never cancelled.
It is still not clear how Mrs Nkurunzinza was allowed entry into the country with the strict rule put in place by the government to combat the virus.
Burundi on May 12 ordered the country's top World Health Organisation (WHO) representative and three other experts coordinating the Covid-19 response to leave the country after declaring them persona non grata.
Related Topics