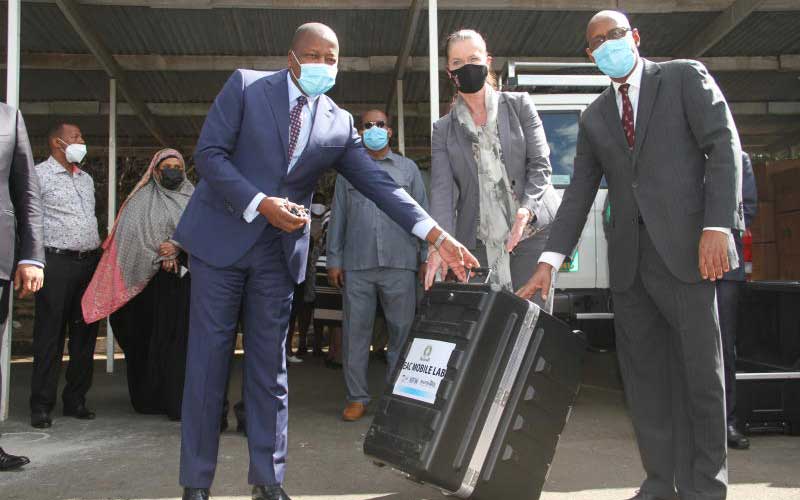 Covid-19 cases have crossed the 1,000 mark, even as the government defends testing that saw Tanzanians diagnosed with the disease at the border. The Ministry of Health yesterday maintained that the Tanzanian truck drivers who tested positive at the border were issued with genuine results, even as President John Pombe Magufuli-led government released contrary figures. A statement from the Office of the President of Tanzania, signed by Arusha Commissioner Mrisho Gambo, claimed samples from 19 truck drivers who tested positive in Kenyan laboratories turned negative when confirmatory tests were done. "Arusha region is confident that this is sabotage strategy designed by Kenya against our tourism industry in Arusha and Tanzania at large," said Mr Gambo.
Detect specific proteins
"But there are many types of coronaviruses, including the one that causes common cold," he said. "So you could just be having a cold caused by one of these coronaviruses, but this particular test could label you are positive, and this is a false positive." He said RDT tests only detect the specific proteins (antibodies) produced as result of someone being exposed to the virus. "In some people the protein is produced much later after the 14 days. So if you test someone before the proteins are produced, he or she could be positive, but because you are looking for a particular protein that has not been produced, then the test will come back as negative. This is what we call a false negative," he explained.
Pitfalls
He added that not every person produced sufficient antibodies after an infection, which could be detected in their blood or plasma. Some of these individuals are those malnourished, those with Tuberculosis and HIV. "Therefore this person will test negative," he said. "These are some of the pitfalls of using the RDT tests. So if someone is using them, there will be that variance." This comes as the German government released nine mobile laboratories with the capacity to test Covid-19 (and Ebola) to all the East African countries. Kenya received two laboratories, which the Health Cabinet Secretary Mutahi Kagwe said would be stationed in Namanga on the Kenya-Tanzania border, and Naivasha, where there is a dry port.
Extended the lockdown
"These laboratories will strengthen the testing capacity of each East Africa Community partner state," said Mr Kagwe, as he gave an update on the Covid-19 cases in the country, where 66 more cases were reported.