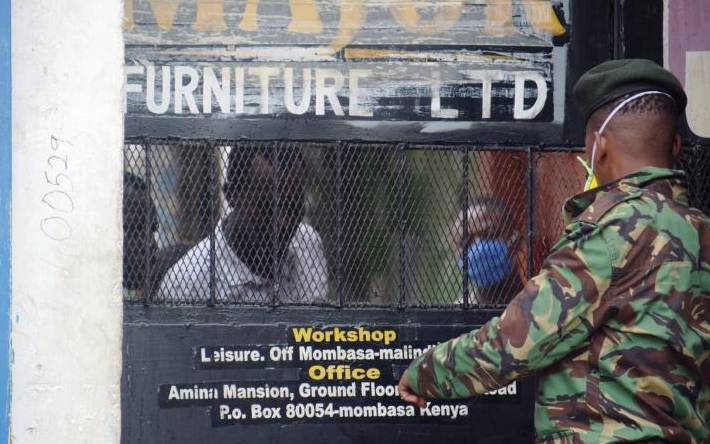 Slightly over 7.5 per cent of Covid-19 patients in Mombasa have died from underlying medical conditions like diabetes and obesity, a tally by the county health department shows.
This is the latest grim statistics from Mombasa, which had reported 249 infections from the virus by Wednesday, only second to Nairobi.
Mombasa has the highest mortality rate in Kenya because the national average is estimated to be 5.4 per cent computed from 40 reported deaths out of 737 infections recorded by the Ministry of Health by Wednesday.
Yesterday, the total number of infections in the country rose to 758, with 42 deaths.
The number of those who have recovered stands at 284.
By yesterday, Mombasa had recorded 22 deaths, including 10 in Old Town, representing 55 per cent of all recorded morbidity in Kenya.
Some of Mombasa's dead died at home, according to Health CEC Hazel Koitaba, who says posthumous tests disclosed they had been infected with the novel coronavirus.
"Most of those who die in Mombasa are elderly and have underlying medical conditions such as diabetes and hypertension," Koitaba told The Standard yesterday, adding that Mombasa has historically had a high prevalence of lifestyle diseases that compromise the immune system.
"We have always had a problem with diabetes in Mombasa because of diets high in sugar and many residents engage in minimal physical exercises," she said.
Koitaba said many families with elderly patients also failed to bring them to the hospital in time after failing to recognise they were suffering from Covid-19.
Statistics from the county health department show most fatalities were for those aged above 60 years, with just two aged 51 and 59.
Ursula Buluma, the first reported Covid-19 case and death at the port, worked in the Welfare Department, which is adjacent to the Conventional Cargo Department.
She died on April 4 aged 59.
James Onyango Oyugi, whose controversial nocturnal burial in Siaya sparked outrage early April, worked in the Conventional Cargo Department at Mombasa, which has recorded five infections. According to the Government, Oyugi also died from Covid-19 complications.
Like Buluma, Oyugi had underlying health conditions.
On April 19, a popular herbalist died after contracting the virus from an unidentified patient.
He died at 84 and is said to have infected his wife, maid, three daughters and neighbours. He lived in Old Town.
A medical report attributed to the Coast General Hospital in July 2012 indicated that five cases of the two common types of diabetes were recorded at the hospital each week.
Statistics from Mvita Health Centre in Mombasa in 2017 indicated that the hospital received 15-20 obese patients of all ages each day, with other statistics showing that every month most hospitals document up to 500 obese patients, a condition attributed to lack of exercise, over-reliance on carbohydrates with little intake of vegetables.
Whereas diabetes is a rising lifestyle disease in many urban centres across the world with a Ministry of Health showing there were 1.2 million Kenyans with the disease across the country, some studies have suggested that certain recent developments have compounded Mombasa's disease burden.
This was confirmed by a research report by Benjamin Marhan Dropkin on diabetes awareness in Mombasa in 2010.
The study found that diabetes and obesity were a growing concern in Mombasa in part due to prevalence of "readily available, affordable and unhealthy cooking material and fast food options".
Some of the foods cited were ice-cream, preferred due to high temperatures, and other foods rich in sugar readily available throughout Mombasa.
The study found that in recent years, many residents had resorted to this kind of food and abandoned a balanced diet.
"The tendency to keep the same diet may be magnified in a place like Mombasa where the standard diet is very narrow and few alternatives are both available and affordable," said the researcher.
The researcher also found that the introduction of motorised rickshaws or tuk tuks in Mombasa had worsened the situation by reducing "the need to walk".
He indicated that Mombasa had a high prevalence of these vehicles compared to other towns like Nairobi, adding that routinely, Mombasa residents resorted to tuk tuks whereas in the past they could walk to cover short to middle distances, hence reducing the opportunity for physical exercise.
Related Topics