Home
/
Health & Science
Kenyans donate to those in need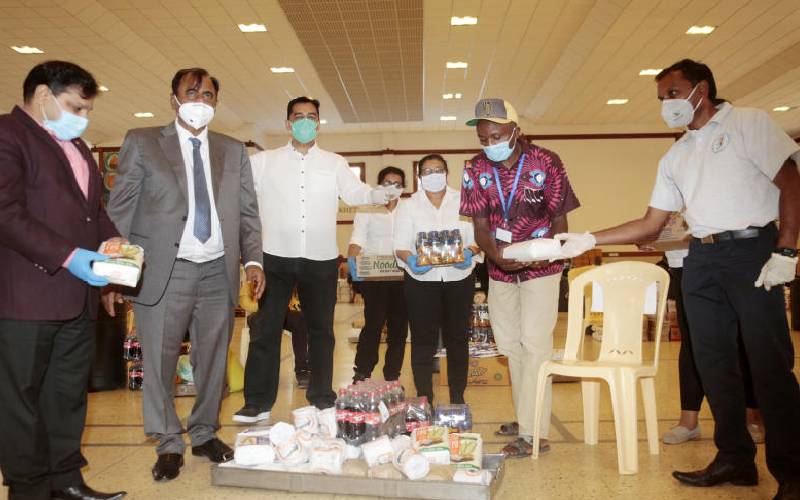 Anyone who wants to make coronavirus-related donations has to register with the Covid-19 Emergency Response Fund, Nairobi regional commissioner Wilson Njenga has said.
This, he said, would help avoid uncoordinated distribution of food.
Mr Njenga spoke at Visa Oshwal Community Centre in Nairobi where 57 organisations donated foodstuffs to street families and vulnerable people around the city. The donations included cooking oil, margarine and cleaning items.
Njenga said all donations from government, individuals and organisations are being channelled through the Fund to cushion Kenyans against the effects of Covid-19.
"What we need you to know is that all these donations have first of all to be registered with the Fund," he said. He cited the example of Bidco Ltd's Vimal Shah, whom he said talked to the Fund about their planned food distribution (Bidco was among the 57 organisations) beforehand.
Desire to contribute
He said that once people express their desire to contribute, the Fund deals with them directly.
"We encourage organisations to supplement that effort; that is why the Visa Oshwal Community called us," said Njenga.
"That is the protocol; we are doing this because we need to coordinate these efforts to avoid confusion," he added, noting that a coordinated approach would help manage crowd and adherence to Health ministry guidelines on how to keep safe from coronavirus.
Njenga said the national administration has an inventory of people in need. Should any organisation approach them, he said, they would be able to access the data on the vulnerable.
Nairobi is leading in the number of coronavirus cases, with 149 cases out of those detected so far. Of the 209 cases reported by Monday, 149 are from Nairobi.
Dr Shah said the initiative would continue until the country beats the pandemic.
"It is important that Kenyans get organised so that the entire Nairobi and other areas are mapped out," he said.
The Bidco boss said the plan was to ensure every week the needs are known, passed on to donors who would deliver the required stuff at the Visa Oshwal Community Centre.
This is also to ensure that donations go to the right people, and to cut off people who take advantage and sell the food.
"Let us not relent. This is a project open for every donor," said Shah.
Narendra Raval, a member of the Covid-19 committee, said the Fund had almost reached Sh1 billion.
Yesterday, the Fund was expecting Sh600 million from the private sector.
"I want to assure every Kenyan that whatever you donate will be accounted for. We are asking every Kenyan to support the Covid-19 Fund," said Raval.
Related Topics