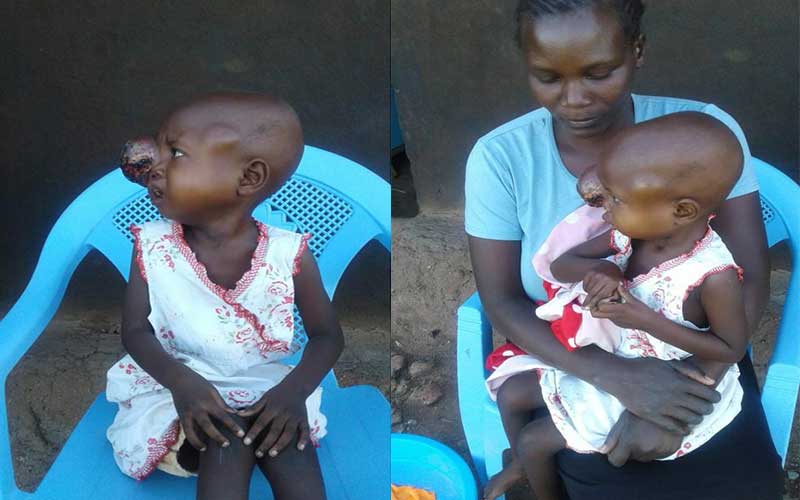 What started as an itch on a two-year-old girl's right eye has now turned into a nightmare for a family of seven at Kanyibana village in Nyakach, Kisumu.
Ashley Achieng started rubbing her right eye on her first birthday back in 2018. It was an itch on the top eyelid.
Her father, Moses Otieno, who ekes a living doing odd jobs for local farmers, and mother Jacqueline Otieno, who sells tomatoes at the local market, did not think an itch was serious enough to warrant a visit to the hospital.
But when it persisted, Jacqueline took the girl to a local dispensary where she was given some eye drops.
"I went to Katito dispensary where they gave me eye drops to use for two weeks. I did as I was directed by the dispensary and put the eye drops in my daughter's eyes," she says.
Endless visits
But instead of healing, Achieng's condition grew worse and her appetite for food dropped to an all time low. The right eye grew redder, and the girl grew more restless and had sleepless nights.
Her agonising wailing kept the entire family awake night after night. The eye was swelling rapidly.
Then the endless hospital visits began.
Her mother first took her to Pap Onditi Sub-county Hospital in Central Nyakach Ward where, after checking the girl's eye, medics prescribed more eye drops.
But even after these, Achieng's eye continued to swell. Worried, the mother took her to a hospital in Kisii where she was required to pay Sh10,000 to have the eye scanned.
She did not have the money and the hospital referred her to Kenyatta National Hospital. Again, she could not afford the Sh1,200 bus fare from Nyakach to Nairobi.
According to Jacqueline, all this time, no one told her exactly what was wrong with her daughter's eye.
The breakthrough
Frantic, she took the girl to Sabatia Hospital where, after some checks, she was referred to the Jaramogi Oginga Odinga Teaching and Referral Hospital (JOOTRH).
On November 22, 2019, mother and child arrived at JOOTRH where after a series of tests and scans, doctors had some bad news for Jacqueline: Her daughter's eye was cancerous.
According to the hospital's records, the toddler was diagnosed with cancer of the right eye. The child was then admitted at the hospital on February 3, 2020 and received the first cycle of chemotherapy.
"Patient is a readmission, has re-started chemotherapy for retinoblastoma, has received the first cycle of chemo and is fit for discharge. Patient to return for second cycle," a peadiatric discharge summary from the hospital dated February 22, 2020 stated.
Achieng was to return to JOOTRH for the second chemotherapy session three weeks later.
It is now almost two months since the first session, and the girl is yet to go back to hospital. Her mother simply cannot afford it.
Dead end
So far, the family has spent more than Sh70,000 trying to get treatment for their daughter. This after selling a cow, several goats and sheep.
After the money ran out, they have been depending on well-wishers for their daughter's treatment.
But Achieng's mother now says she has hit a dead end.
"I do not have any money left to take her back," she says.
As the clock ticks away, the cancer on Achieng's right eye continues to grow. Her mother has since closed her tomato business to stay with her daughter.
"I did not have anyone to take care of her when I am away. I had to stop selling my tomatoes to take care of her as going with her to the market also became a challenge," she says.
The Sh200 that Achieng's father makes everyday goes to feeding the family. It can barely cater for their basic needs.
And as the sun sets everyday, the family braces for Achieng's wailing. What began as an itch on her right eye is now a painful malevolent tumour that makes her mother wince.
"My child is suffering, I just need help so that my daughter can get well again," she says.