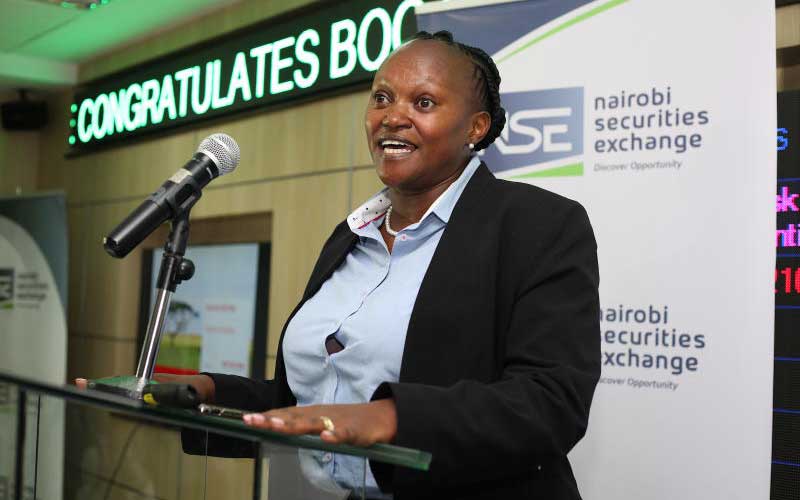 Industrial and medical gas manufacturer BOC Kenya Plc has urged private and public institutions to return about 20,000 cylinders lying idle.
The listed firm said returning the cylinders would enhance its planning for adequate supply of medical oxygen in response to the Covid-19 pandemic.
While making the appeal, BOC Kenya Managing Director Marion Mwangi said the 20,000 medical oxygen cylinders were not in use yet they could be used to save many lives. She urged those keeping them to return them to the company's outlets countrywide.
"We want to enhance our support to government and private healthcare providers in responding to the treatment of Covid-19 by increasing our national medical gases cylinder float while still observing the comprehensive countermeasures that have been provided," she said.
"We therefore urge anyone with idle cylinders to surrender them with urgency. The company will issue requisite documents which can be retained for future use," added Ms Mwangi.
At the same time, Mwangi advised people not to use medical oxygen in place of industrial oxygen.
Oxygen cylinders and ventilators have become key in the fight against coronavirus that has killed more than 40,000 people globally.
One of the effects of coronavirus is the attack on the lungs, making it harder for patients to get oxygen into their bloodstream to support their kidneys, liver and heart.
One of the main sources of oxygen in hospitals, especially in developing countries, are the cylinders. They are cheap to maintain and consume less power.
Kenya has confirmed 81 cases of the virus, with the Ministry of Health projecting that the country could have at least 10,000 cases by end of this month.
This means that the government and health stakeholders need to ensure that oxygen supplies in medical facilities work to enable them rescue lives when need arises.
Mwangi said the company, whose main clients are hospitals, has over the years invested heavily in the only Air Separation Unit in East and Central Africa that guarantees purification of gases to the highest standards.