Home
/
Health & Science
Why State must rescue economy from coronavirus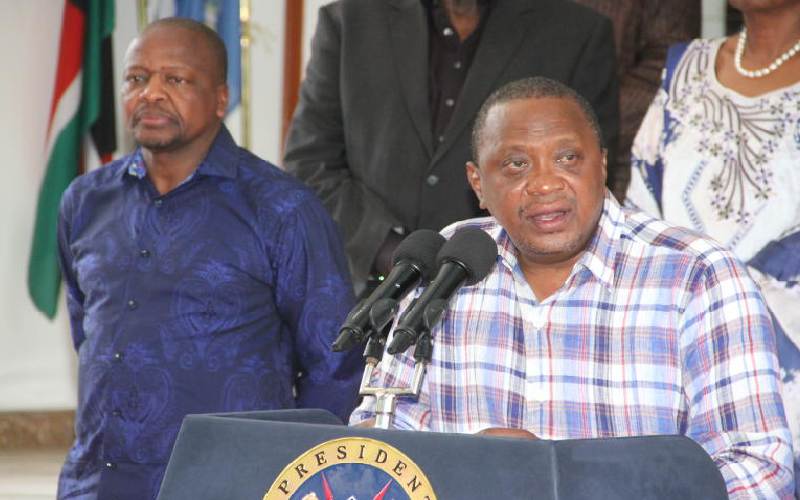 Kenya should take immediate interventions to cushion the economy from the impact of the coronavirus, including cutting taxes to encourage spending.
With the looming global recession, the coronavirus pandemic threatens to disrupt the livelihoods of ordinary Kenyans.
Covid-19 has evolved from being a public health issue and, analysts now warn, it could mean an economic catastrophe and the country could see an increase in bankrupt companies and mass job layoffs.
Like their peers globally, Kenyan businesses are crying for rescue in the face of uncertainty brought about by the disease that the World Health Organisation has already declared a pandemic.
Captains of industries have emphasised that money needs to quickly start flowing into critical capillaries of the economy before it goes into a coma. Interest rates and taxes need to be slashed to stimulate the economy.
They say that under lockdown, Kenyans are helpless and so are businesses and only bold rescue measures can guarantee survival.
The market feels that the country needs bailouts, tax incentives and rebates, social safety nets – generally a stimulus that could help ward off the devastating effects of a shutdown that has hit key economic sectors.
It will not be unique to Kenya as other countries including the UK, US, China, Italy and Qatar have done it in a bid to save their economies from collapse - even as there are no guarantees that these measures will jumpstart the economies.
Besides taxes, the Government should also increase spending as a means to add money to the pockets of the ordinary mwananchi through the trickle-down effect. A survey among economists and business leaders has shown that the economy is significantly exposed to a possible recession hence the need for urgent measures.
Already, exports have come to a near halt while hospitality facilities are reporting low business as would-be patrons have stayed away in line with government directives banning travel and conferences.
University of Nairobi Economist Joy Kiiru told The Standard in an interview that the interventions need to be taken urgently before a possible total lockdown with the rising spread of the virus.
"We need to ensure that people have more money in their pockets to spend to support the economy, which is already hurting from disruptions," she said.
Among the ways that would have immediate results is to review the income tax regime to allow workers tax breaks, even if for just a few months. Banks, Dr Kiiru added, should extend credit to the private sector which should boost consumption and ultimately support productive sectors of the economy.
In an illustration of how banks can come in, there are new opportunities that have inadvertently come up such as the manufacture of hand sanitisers which the lenders could finance. Businesses which have invested borrowed cash are also likely to run into trouble in servicing their loans as long as the disruptions exist, a factor that lenders should consider.
"I was shocked today to learn that the hotel where I go to the gym has already sent some of their staff on leave because there are no guests. It is completely deserted," said the economist.
"In terms of mitigation, some of our members say that tax breaks would be a good measure so we'll be exploring that and it's a dialogue that we're having with government," said Kenya Private Sector Alliance (Kepsa) Chief Executive Carole Karuga last week.
Supply disruptions
Richard Ngatia, the chairman of the Kenya National Chamber of Commerce and Industry, said the State should consider the expansionary approach to rescue the economy from the shocks associated with supply disruptions.
"We need to find ways of ensuring consumers have money to spend as the only way to cushion the wider economy from an imminent recession," he said.
Other measures he proposed include ensuring suppliers to the Government are paid promptly to sustain the private sector, which is the biggest source of employment.
Hoteliers, who have experienced massive cancellations, are hoping they can get tax rebates. The hospitality industry, which was gearing up for the Easter Holiday season, welcomed a Sh500 million rescue package announced last week, but hope more money can be set aside to help the sector, whose occupancy level stands at 20 per cent.
Kenya Tourism Federation (KTF) Chairman Mohamed Hersi said the Government should cut or suspend some taxes from hoteliers such as value-added tax and pay as you earn (PAYE), which employers deduct from employees and remit to the Government.
This, he said, would enable the industry to sustain certain operations in the face of massive cancellations.
"We are trying to get tax rebates from the Government. One of the key taxes we have asked for is VAT. The other is PAYE, which would enable us to continue keeping our employees at work," said Mr Hersi.
"Probably the Government could half that or suspend it and we can pay at a later date when business improves so that we can continue keeping people in employment."
It is a position that Leopard Beach Resort General Manager Kioko Musyoki agrees with, noting that subsidies or tax rebates might be the only way to save the hotel industry. The sector could also do with some relief from banks. The industry is already experiencing difficulties as it was yet to recover from a slow period and in the course of last year registered the highest increase in non-performing loans.
The Central Bank of Kenya (CBK) in a recent report attributed the 11.2 per cent increase in bad loans to low business turnovers.
"Central Bank should announce some measures when it comes to interest rates. Banks should probably consider something like lowering or even freezing interest rates for about six months," said Hersi.
The Tourism ministry last week noted that the sector would definitely "be hit badly". On Thursday, the ministry announced it has set aside Sh500 million to help recovery once the pandemic was contained globally.
Hersi termed the post-coronavirus recovery plans and budget a good start, but hoped that "we can get more money so that when we start recovering we can go out there aggressively".
Dickson Mbugua, chairman of Matatu Welfare Association, said that the public transport industry is set to experience a low season following the closure of schools and would be made worse as people take precautionary measures and limit their movement to essential travel.
"The matatu industry relies on schools when they are open, there is a booming business. Following the closure of schools, we are going to experience a slowdown and are not sure how long this will last," he said.
"We are appealing to the Government to ask the banks to relax repayment of loans."
Transport CS James Macharia also said banks will at some point need to confront the matter and consider taking short term hits by working with their customers, referring specifically to the transport sector.
"This is something that requires everyone to play their part. We also ask commercial banks to ensure that they play their part in ensuring the sustainability of other businesses because it will not help anyone if they collapse," he said.
Aside from the Government, industries are looking up to the banking industry to understand their predicament and the high chances that they may default on their loan repayments and perhaps make some concessions.
Kenya Bankers Association (KBA) Chief Executive Habil Olaka said these are discussions that customers should have with their banks at an individual level.
He, however, added that KBA is working on proposals that it would soon present to the Government on measures that the banking industry needs to ensure that even when hit, the industry and its customers will be able to withstand the shocks.
Without going into the specifics of the proposals that the lobby is working on, Mr Olaka said that not only will uptake of credit be affected but also the industry might see an increase in non-performing loans, especially among players in such sectors as tourism and travel.
"We are in the process of accessing the situation and coming up with a comprehensive proposal that we will make to various players including the Government," he said.
"Uptake of credit is bound to be slowed down by the virus especially as infections come nearer home. There are also people who have loans from banks and are feeling the impact, they might be strained and at some point and be unable to meet their obligations."
Olaka said the situation is uncertain and even in instances where banks agree to extend some courtesy to their clients, they cannot tell how long that will last. An indicator, perhaps, that banks might only be willing to bend so much before they come for their pound of flesh.
Related Topics