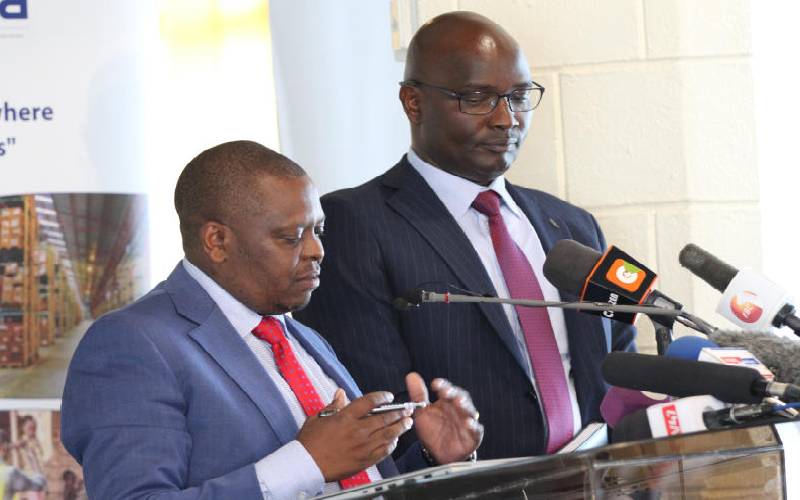 Health & Science
Devolved units will be required to clear debts before ordering extra drugs from Kemsa when using own budgets
A Sh2.8 billion debt owed to a medical supply agency may block counties from accessing drugs, even as the government confirmed a budget allocation for Universal Health Coverage (UHC). The budget of Sh8.3 billion for January to June, as revealed by Kenya Medical Supply Authority (Kemsa), will not cover all essential supplies. The budget will cater for pharmaceuticals, non-pharmaceuticals and medical equipment. Kemsa Director for Commercial Services Eliud Muriithi said counties would still be required to maintain their health budgets in order to purchase extra drugs. However, Mr Muriithi said counties would be required to clear debts before ordering drugs from Kemsa when using their own funds.
SEE ALSO: The plan to scare you off alcohol and junk food
"We will put conditions on them (counties). If they do not pay, we will suspend their accounts. These are debts from drugs supplied using public money and we have the right to protect (public) resources," he said. Nairobi, one of the counties with a long standing debt, last week paid Sh161 million. Muriithi said the UHC funds were meant to support what counties were doing in terms of healthcare, and not necessarily take all the burden from them. "There are health products that are not included in the UHC budget. The few remaining have to be bought by counties. UHC only covers the very essential ones," he said. A 2019 law passed by the National Assembly, which has strongly been contested by the Council of Governors, compels counties to buy drugs from Kemsa. The law imposes a fine of Sh2 million or five-year imprisonment if a county boss contravenes it.
SEE ALSO: NHIF to trim costs in health reforms
CoG, in a yet to be determined case filed in court in September 2019, said counties should be allowed to buy drugs from other dealers, adding that Kemsa had stock-outs and not in a position to meet demands of counties. "The law puts an extra burden on us. We have been working at 87 per cent fill rate, but we are now working towards 100 per cent," said Kemsa board chair Kembi Gitura. A fill rate of 87 per cent means Kemsa has 87 per cent of what is ordered in stock and is immediately available for customers. On UHC, Kemsa boss Jonah Manjari said at a Press briefing that the authority had Sh6.7 billion stock. This includes Sh4.2 billion of very essential health products and technologies, Sh1.2 billion worth of essential and Sh753 million for slow moving products. Dr Manjari admitted that previously, the authority had not been stocking some health products and technologies, among them oncology, basic diagnostic kits, clinical nutrition, medical lab commodities like reagents, mental health, and community health volunteer kits. Manjari said procuring for counties had been a challenge due to skewed orders, poor forecasting and lack of standardisation, especially for laboratory equipment.
SEE ALSO: Health sector to get 15 per cent of total State budget
Muriithi said for the UHC, money would be sent to Kemsa directly and in advance, unlike how counties had been procuring on credit with expectation that the Treasury would release money to pay. "As it stands, counties have a drawing rights of Sh8.3 billion, and we expect orders to start coming in this week," he said. He said counties will be using self-generated list provided by the Ministry of Health to make order.