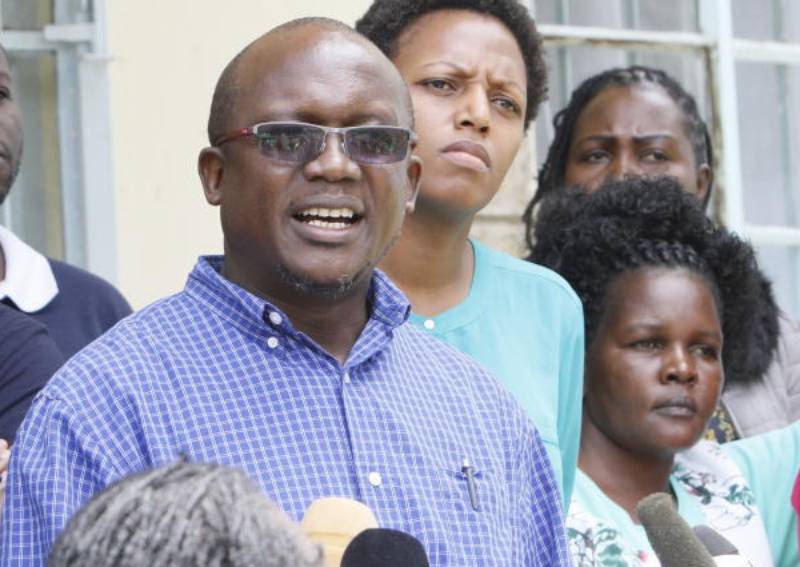 A Kenyan exhibiting symptoms of coronavirus will be quarantined for 14 days even after testing negative to the disease.
Government Spokesperson Cyrus Oguna said initial tests showed the man was not infected but he will be kept in isolation as a precautionary measure.
The man who had arrived at Jomo Kenyatta International Airport (JKIA) aboard a Fly Emirates flight from Dubai, reported to flight attendants that he was feeling unwell the entire journey.
When the plane landed at 2.22pm, he was isolated and given time to see if the fever could subside but it did not. A decision was made to have him isolated and observed.
The plane, a Boeing 777, took four hours from Dubai and passengers exited through Terminal 1E.
The man was transferred to Kenyatta National Hospital (KNH) where he was put in an isolation ward and his samples taken to the National Influenza Laboratory for tests.
At the same time, Oguna said the mop up of 239 passengers who jetted into the country from China last Sunday has not taken place as ordered by the High Court on Friday. "There is a discussion going on because the judge said the Chinese should be isolated in a KDF or any other facility, but military facilities are basically barracks, which means soldiers will have to be relocated, and that is why the judge in his wisdom also said it could be any other facility," Oguna explained.
On Friday, High Court judge James Makau ordered the suspension of all flights from China after an uproar over the resumption of flights between China and Kenya by China Southern Airlines last Sunday, with 239 passengers on board arriving at JKIA.
Coronavirus (COVID-19) has so far infected 79,251 globally and killed 2,835, with numbers expected to rise.
The World Health Organisation (WHO) warns that while it is not yet a global disaster, the coronavirus menace was growing out of proportion.
Yesterday, Iranian MP Mohammad Ali Ramazani Dastak was the latest to die in a suspected coronavirus case after exhibiting flu-like symptoms, according Iran's state media.
On Friday, UN Secretary-General Antonio Guterres said containment of the global spread of coronavirus was possible "but the window of opportunity is narrowing".
Kenya has so far tested 17 suspected cases all of which have turned out negative. Initially, the samples would be sent to South Africa before Kenya set up two labs at the Kenya Medical Research Institute (Kemri) and National Influenza Centre at the Public Health Laboratory.
Adequately prepared
On Thursday, MPs were shocked to learn that only 11 beds were ready for isolation despite days of assurance from the Health ministry that the country is adequately prepared. An executive order by President Uhuru Kenyatta directed the formation of the National Emergency Response Committee to handle all issues around coronavirus. Health Cabinet Secretary Mutahi Kagwe, while taking office on Friday, announced that his priority is to implement the executive order in a structured manner to manage the issue of coronavirus.
He said all the 12 level five hospitals in the country are ready to handle any reported case as President Kenyatta directed.
This comes after nurses cast doubts on the level of preparedness to handle the virus.
National Nurses Association of Kenya president Alfred Obengo on Friday said he is not aware of any training of nurses to handle the virus contrary to what the government had said earlier.
But the Ministry of Health announced on Twitter that a number of health workers are undergoing training in Machakos to prepare them for any eventuality.
"Participants attending coronavirus COVID-19 Risk communication TOT Training…," read the tweet.
Kagwe said the committee ordered by the President is looking at all factors before the court order can be put into effect without giving any timelines.
Nairobi is ranked the sixth riskiest in Africa, according to a research by the University of Southampton. Some of the other cities ranking highly in risk include Cairo, Egypt and Johannesburg, South Africa.
Riskiest country
Outside Africa, Bangkok, Thailand is ranked as being the riskiest so far, even as Kenya Airways maintains flights between the two countries despite cancelling direct flights to China.
Nigeria became the first sub-Saharan African country to record a positive case of the disease.
Several countries have taken stringent measures to prevent and control spread of the virus.
On Friday, Russia, which has closed its entire land border with China, announced it will deport 88 nationals for flouting quarantine measures.