Home
/
Health & Science
Relief for girl as heavy and painful arm is amputated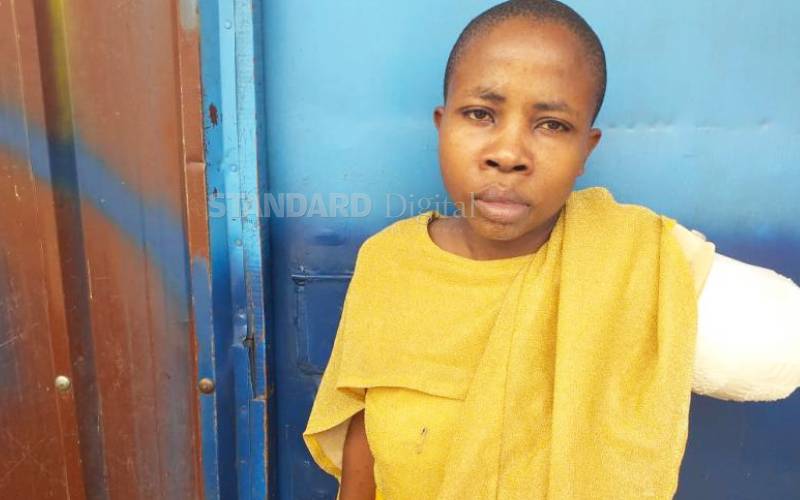 Although she will not be able to undertake some house chores like she did before, Cynthia Nekesa is happy that the swollen arm, which had denied her peace of mind for more than 10 years, has been cut off. That had become her wish.
Doctors at the Aga Khan University Hospital in Nairobi amputated the girl's arm last week on Wednesday, and Nekesa is happy. She has thanked the well-wishers who came to her rescue and facilitated the whole process.
In February, The Standard highlighted the plight of the 18-year-old girl from Masendebale village in Butula Constituency, Busia County.
Her sad story touched many people who came out to help her get assistance. In an earlier interview, the teenager narrated how her life had been turned upside down because of the swollen arm.
The swelling started as a tiny lump. Her parents thought it would go away. However, the growth persisted.
The parents took their child to the Moi Teaching and Referral Hospital on September 6, 2006. The diagnosis revealed that Nekesa was suffering from neurofibromatosis.
Neurofibromatosis is a genetic condition that causes tumours to grow in the nervous system. Hospital records show that Nekesa was six-years-old when she was admitted to hospital on August 13, 2006 and underwent surgery.
Regular check-ups
Doctors recommended regular checkups to manage her condition, but lack of money contributed to the complication of her treatment.
Nekesa now wants to pursue nursing after completing Form Four next year. "I have suffered for many years but at least I am happy. The arm that denied me peace and happiness is no more," said Nekesa.
She added: "At least I am going to concentrate on my education. I will be able to clean the house and cook tea but I will not be able to wash clothes and utensils."
Roselyne Awino, Nekesa's mother, yesterday said she was happy because her daughter would no longer be experiencing the excruciating pain.
She had to lean on the right side of the body while walking to Tingolo Secondary School daily in order to balance the extra weight from the left arm.
Nekesa only attended class three times a week owing to her heavy hand.
She will go back to the Agha Khan University Hospital for a review. Nekesa, together with her siblings, depend on bursaries.
Related Topics