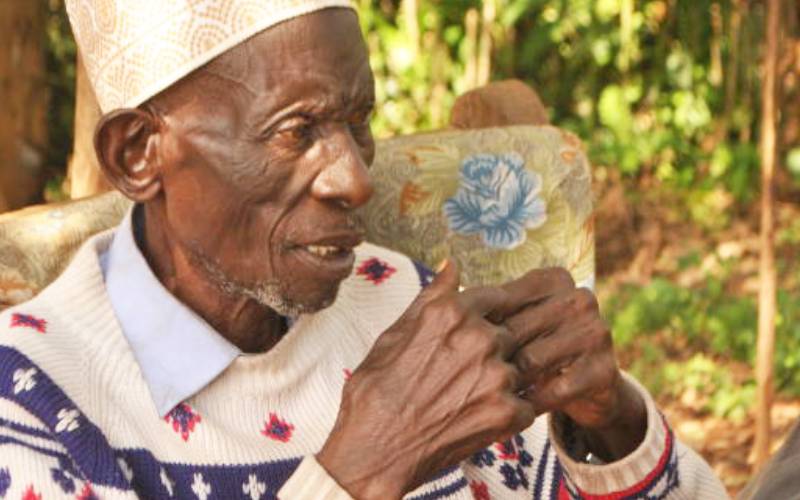 Ali Idi Tamba dismissed his throat irritation as a mere cold that would eventually go away. This was in July 2018. He would swallow aspirin tablets whenever the condition persisted. Little did Mr Tamba and his family know that there was more than what met the eye to the irritation that kept on recurring. It all began moments after the old man, 70, ate a piece of meat at a friend's party. The persistent cough forced him to seek medical attention.
SEE ALSO: Health workers lock horns with Governor Nyong'o
He received the shocking news at the Kakamega Cancer Centre hosted at the County Referral Hospital. All along, Tamba had been surviving on aspirin and other painkillers. Tests were conducted and samples sent to Aga Khan Hospital in Kisumu revealed he was battling oesophageal cancer. "At first, the news did not make sense to me. I thought maybe the results were not mine and even went ahead to question the doctor," says Tamba. A special tube was inserted in his gullet to aid in swallowing (stent) since the cancer is at stage four. Tamba is not the only cancer victim to discover the disease in its late stage. Shiboko Ambani who hails from Lirhembe in Ikolomani sub-county is also battling the disease. She was diagnosed with it in 2018 after experiencing persistent pain in the chest. The mother of five has been on painkillers for the last one and a half years. She prefers eating greens and fruits with low acidic levels.
SEE ALSO: Policewoman held for shooting husband after domestic quarrel
Her daughter-in-law, Winfred Ambani, said at first they thought their mother had stomach ulcers and even gave her ulcer medicines. But when the situation persisted, they were prompted to seek expert advice and that is how she was booked for an endoscopy to ascertain the cause of her ailment. It would later emerge she had a cancerous tumor in her esophagus. Both Shiboko and Tamba are just among patients of throat cancer from Western. Statistics show that 60 per cent of 400 patients seen at Kakamega Cancer Centre suffer from throat cancer, according to Vincent Likata, a nurse at the centre. The centre was established in 2018 by the national government and it's the only facility of its kind in the region. Rose Otera who in charge of Kakamega Hospice, said they have been recording many throat cancer cases compared to other cancers such as cervical. "From our records, one out of two people screened is likely to have throat cancer," said Ms Otera.
SEE ALSO: Governors praise debt waiver for cane farmers
In an interview with
The Standard,
Otera disclosed that at least 15 new cases of throat cancer are registered every month. Judy Ombati, a nurse at the hospital says throat cancer affects the voice box, the vocal cords and other parts of the throat, such as the tonsils and the oropharynx.