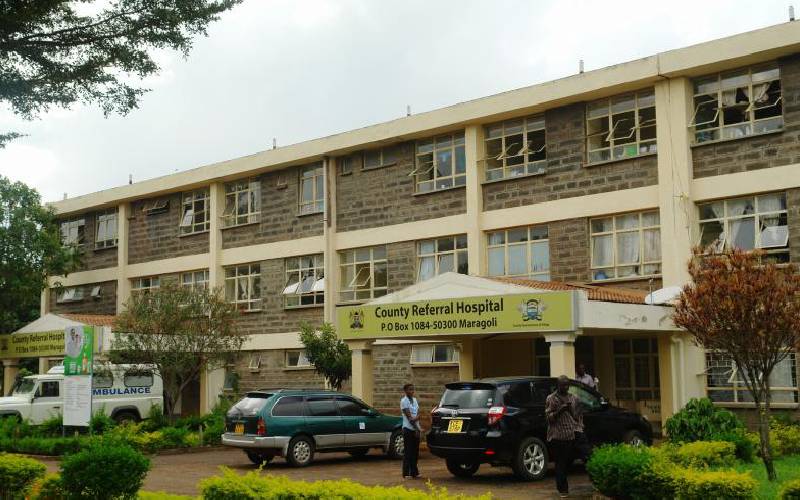 Services at all health facilities in Vihiga County have been paralysed after 17 departments went on strike over the county's inability to promote staff.
Kenya Health Professionals Society (KHPS) secretary general in the region, Wycliffe Alumasa, said the strike is ongoing and workers will not resume duty until their grievances are heard and settled.
Departments that have been adversely affected include the radiology, pharmacy, procurement, support staff and clinical officers, who oversee most of the departments in the health facilities.
"Many of the hospital workers who are members of the KHPS have not been promoted, some staying in the same job group for over 10 years," Mr Alumasa spoke to journalists at the County Referral Hospital in Mbale.
Many patients who visited the county referral hospital in Mbale were left unattended to, with majority seeking services from the neighbouring counties of Kisumu and Kakamega.
Alumasa said they have raised the issues in the past, and had a county health advisory committee that was supposed to spearhead the initiative.
"The committee sat in Kisumu and even had a budget that was supposed to be used in the promotions. The committee finished its mandate by December 21, 2018 and people were waiting to get their letters of promotions," he said.
He noted it was still a mystery that three months later, nothing is forthcoming and no letters have come prompting the union leaders to issue a 14-day strike notice that was supposed to endi on Monday.
"We have seen that it is only the strike that will help solve our issues, and that is why we have downed our tools," Alumasa said.
Victor Igara, a shop steward for the Kenya Government Workers Union, noted he was among those who started advocating for the well-being of the hospital workers.
"I am in charge of clerical officer, cleaners, procurement department, cooks and drivers among other support staff in the hospital. They have been in the same job group for many years, that is why we are advocating for their well-being," Mr Igara said.
He noted that during a meeting with Deputy Governor Patrick Saisi last Tuesday, he assured them their issues would be solved and promotion letters would be released on Wednesday.
County Director of Health Services Quido Ahinduka, while acknowledging there was a strike, directed all medical superintendents and those in charges of all health centres and dispensaries to take daily duty register of staff.
Ahinduka directed the officers to submit a daily list of staff that is signed.