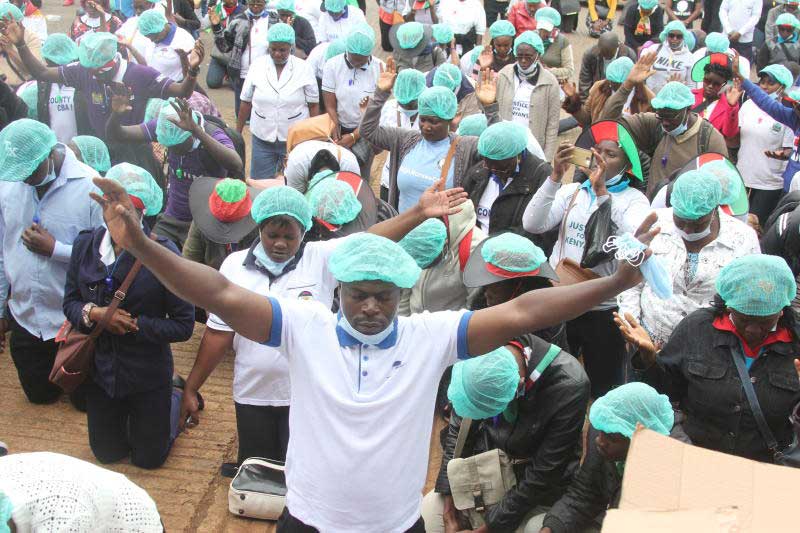 Barely a year after the longest ever nurses' strike in the country, the health workers may head for another strike next month.
National Advisory Council of the Kenya National Union of Nurses (Knun) which met in Kisumu on Friday issued a 21-day strike notice starting November 19.
According to the council, the decision was reached after the Salaries and Remuneration Commission (SRC) cancelled a meeting with the union to discuss the way forward for the implementation of November 2, 2017 return to work formula signed between the national, county governments and Knun.
The union General Secretary Seth Panyako who read a statement on behalf of the council said the agreement had factored in service allowance for nurses, which is yet to be implemented.
He said the agreement was to see nurses get an increment of Sh3,000 in July this year, with additional Sh3,500 next year and a similar increment in July 2020.
Yesterday, Panyako said the health practitioners have been patient enough, but were worried that the national and county governments which were party to the agreement have since abandoned it.
"We want to state clearly to the public that the return to work formula has not been met and we will not lie low," he said.
He warned that should the responsible parties fail to act within the 21 days, the nurses will commence an indefinite strike.
The union also registered displeasure with the SRC which has graded nurses as semi-skilled.
Panyako said despite nurses' complex duties, the SRC has been persistent in grading them as unskilled for the past three different grading.
"Nurses are highly skilled people who deal with lives of human beings. The SRC must move with speed and revise their job evaluation structure," he said.
Related Topics