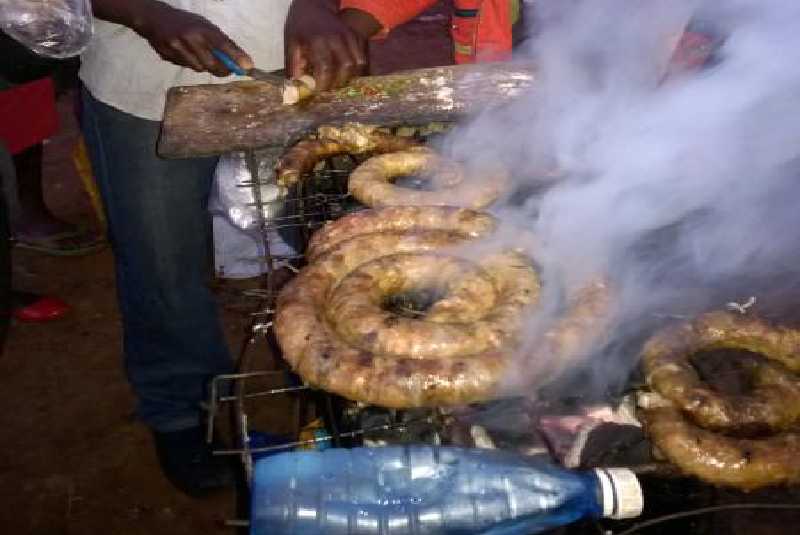 Food experts have warned of deadly germs in most of the popular 'mutura,' sold in Nairobi.
"It could make you very sick," the researcher from University of Nairobi warned in a report published on October 23.
The researchers said more than half of cooked or uncooked 'mutura' sold in Nairobi were highly contaminated with disease-causing germs.
"Our study shows roasted and non-roasted African sausages sold in meat outlets in Nairobi County are contaminated with staphylococcus, bacillus, streptococcus, proteus, and E coli organisms," says the report. These germs, the researchers from the university's veterinary department said, pose serious food safety risks to consumers.
The team had collected 100 samples of 'mutura' from ready-to-eat vending sites and meat eatery points in Westlands market, Kangemi market and Pangani estate.
They found evidence of all the five types of bacteria in 80 per cent of the tested samples. "We found, Staphylococcus spp at 50.4 per cent, Bacillus spp at 19.5 per cent, Streptococcus spp 9.8 per cent, Proteus spp 2.4 per cent, and E coli spp at 1.6 per cent," the report read.
Some of the bacteria, the authors said, produce dangerous toxins. "They can cause a sudden onset of illness in humans within three to four hours of ingestion," says the study.
Such infections are characterised by nausea, vomiting, and diarrhea as the major symptoms, the researchers, who were led by Henry Karoki Wambui, said.
However, and despite it being prepared in unhygienic conditions, the authors said 'mutura' remains a much sought after delicacy.
"Food safety enforcement authorities therefore need to scale up inspection of establishments where African sausages are prepared and sold," they said. The growing unregulated ready-to-eat meat culture in most towns, health experts warn, is a threat to public health.
Kenya has been unsuccessfully trying to stop a cholera outbreak since 2014 that has killed 421 people from 26,544 cases.
In May a report by Meru University of Science and Technology showed much of raw salad (kachumbari) that accompanies roast meat is also contaminated.
Related Topics