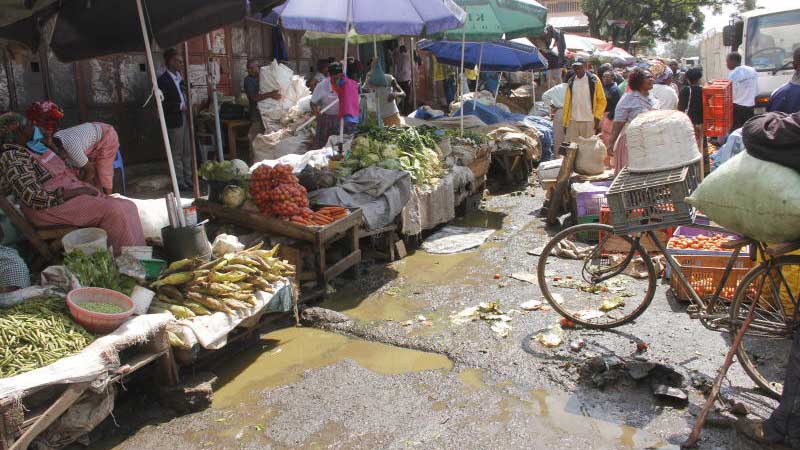 The number of people killed by cholera since January almost equals those who succumbed to the disease the whole of last year.
From January 1 to June 11, up to 75 people have died from the disease across 19 counties, according to the Ministry of Health.
Some 76 people died of cholera in 20 counties from January 1 to November 29 last year, according to WHO Disease Outbreak Report dated December 11, 2017.
The number of people who have tested positive for cholera since the beginning of the year are nearly half (279) of those recorded in the whole of last year (596).
In addition, the number of suspected cholera cases this year (4,954) are also higher than those recorded last year (4,059).
Director of Medical Services Jackson Kioko said of the 19 counties at risk of cholera outbreak, nine have contained the disease.
"Nine of these counties have managed to successfully contain the outbreak. Currently, 10 counties continue to report new cases of cholera. These include Garissa, Turkana, West Pokot, Isiolo, Kiambu, Elgeyo Marakwet, Nairobi, Machakos, Tana River and Kilifi," said Dr Kioko.
Besides cholera, new cases of polio, Rift Valley Fever, measles and chikungunya have alarmed authorities.
Kioko blames inadequate resources and uncontrollable risk factors for the recent upsurge of diseases.
The Ministry of Health has assured that it is doing everything to mitigate the spread.
In Wajir County, at least 13 people have been killed by Rift Valley Fever since the beginning of the year. In Nairobi, issues of poor sanitation (including flying toilets), illegal water connections and population pressure have been cited as major contributing factors for disease outbreaks by both WHO and the Ministry of Health.
According to WHO update on the diseases for 2017, June, July, August and September have the majority cholera cases.
"Continuous transmission in the community accounts for around 70 per cent of the total cases, with the majority of cases coming from the capital county, Nairobi," reads the update by WHO.
Garissa and Turkana counties account for around 23 per cent of the total reported cases, as they host the region's biggest refugee camps; Dadaab and Kakuma.
"Kenya experiences cholera outbreaks every year. However, large cyclical epidemics occur approximately every five to seven years and last for two to three years," reads the WHO update in part.
The Director of Medical Services said the Health ministry had always partnered with the affected counties and other stakeholders and successfully responded to most of the outbreaks, leading to timely interruption of transmission.
Risk factors
But despite these efforts, Kioko said the outbreaks continue to erupt in new counties and recur in previously affected counties.
"This is due to continued existence of risk factors and inadequate resources to facilitate implementation of effective interventions," he said.
For example, while polio was no longer a threat in the country, as there had been no reported cases since 2013, random samples collected by the ministry found existence of polio virus in sewage in Eastleigh, Nairobi, in March this year.
"It is closely linked to a virus that was isolated from a similar sample in Somalia in October 2017," explained Kioko.
But despite being handled as an isolated case, the ministry embarked on a rigorous door-to-door immunisation campaign in Nairobi targeting 817,782 children under the age of five.
Kioko said two additional rounds of immunisation would be done from June 30 to July 4 and July 28 to August.
"Each of the additional rounds will target 2.4 million children in 12 high risk counties including Nairobi. The other counties targeted are Wajir, Mandera, Garissa, Tana River, Isiolo, Meru, Kitui, Machakos, Lamu, Kiambu and Kajiado," said Kioko.
Failure to get polio vaccine for the under five-year-old children can lead to total paralysis of the limbs and even spine. The virus can be transmitted from an infected person, food or water.
Measles, a viral disease that spreads by coming into contact with body fluids of an infected person, was also detected in Wajir and Mandera in February, where 39 and 103 cases were reported respectively.
"This outbreak has since been successfully contained through active case search, case management and enhanced outreach vaccination services," said Kioko.
Kioko said so far, the Government has managed to contain the chikungunya outbreak that affected Mombasa, where there were 1,334 cases, Lamu (203) and Kilifi's nine.
From these cases, only 38 tested positive; 32 of them in Mombasa, four in Lamu and two in Kilifi.
But while outbreaks like measles can be controlled with vaccines, others like chikungunya are yet to be contained since last year.
Chikungunya is characterised by severe joint pains and high fever. It is spread by mosquitoes and can easily be controlled by sleeping under treated net.
Kioko said the ministry would continue to monitor and coordinate response efforts to contain and control disease outbreaks. "The public is advised to be on high alert, observe personal hygiene... and refer any suspected cases of diseases to the nearest health facility," he said.