Home
/
Health & Science
How the 'cut' almost drove a boy insane
Health & ScienceBy Graham Kajilwa | Mon,Feb 12 2018 00:00:00 UTC | 3 min read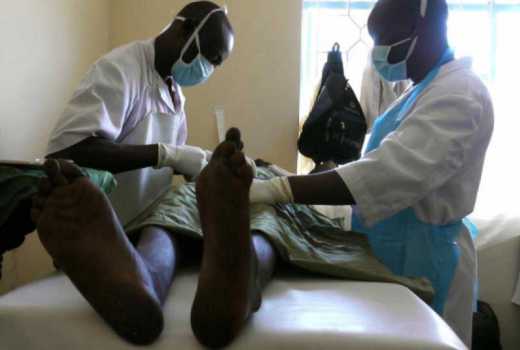 A simple procedure to initiate a boy into manhood almost drove him insane following a wrong diagnosis.
It all began on December 5, 2004, when the boy, identified as Peter in court documents, was taken to Topkins Maternity and Clinic for the procedure.
Peter however developed an infection and his mother had to return him to the clinic on December 25, 2004.
The court heard that by that time, he had started to exhibit aggressive behaviour and confusion, in addition to the infection.
At the clinic, he was diagnosed with a septic wound on the circumcision scar and "suspected drug-induced psychosis". He was given Amoxyl, an antibiotic, Largactil, an anti-psychotic drug, and Artane, which is used to control the side effects of anti-psychotic medication.
Not responding
But on December 28, his situation deteriorated and he was returned to the clinic, where it was concluded that he was not responding to the treatment. He was then referred to Kijabe Hospital, where he was admitted until December 30.
During that time, he was also put on Flagyl, another antibiotic.
The court was told how the hospital "entertained" the doctor's diagnosis of tetanus and prescribed a course of medication.
"During his hospital stay, tetanus was entertained as a diagnosis but he did not develop the characteristic symptoms. Based on a review of this case, there is no evidence that a mental disorder was the result of the circumcision or subsequent treatment," read a note from Kijabe presented in court.
But another note from the hospital dated August 11, 2005, appeared to steer clear of the earlier statement by saying the surface of the boy's penis had an infected wound and he was "presumed" to have tetanus upon the history and clinical findings.
"However, we cannot prove this diagnosis with laboratory tests available at Kijabe Hospital," read the report, adding that he had been treated with antibiotics and discharged on December 30, 2004.
"He was referred to Nairobi for further care. The bizarre behaviour continued and he was re-admitted on August 6, 2005. Unfortunately, we have no further treatment," added the hospital.
In an appeal, Topkins Hospital protested an earlier award of Sh500,000 to the family granted by Justice Joel Ngugi.
Giving his expert opinion, a Dr Wandugu said the minor's symptoms were caused by trauma and a tetanus infection, which resulted in maniac depression psychosis.
However, Dr Fredrick Owiti, a witness for Topkins, claimed the boy had a mild mental handicap and due to the unhygienic conditions of care, he had developed an acute psychotic episode, and upon being treated with Lagactil, he had developed side effects.
Side effects
He said the side effects, called extra psychotic episode, sometimes stretched people and that could be interpreted by inexperienced medical officers as anything, including tetanus, meningitis or even an epileptic episode.
"… though the latter is a possibility given that Lagactil may lower the epileptic threshold and hence trigger a seizure in somebody who is predisposed," he said.
In his judgement dated November 30, 2017, Mr Ngugi said the medical evidence presented in court was not sufficient for a tetanus infection.
"There is, however, no doubt that the infection noted at the (appellant's) clinic when Peter was taken for review was 23 days after circumcision. Kijabe (Hospital) also noted that the wound was infected," read the judgement in part.
"It is not clear whether this infection was picked (up) at the clinic or at home. He may have been predisposed to the illness he suffered, which was triggered by the infection of the circumcision wound," it added.
Related Topics